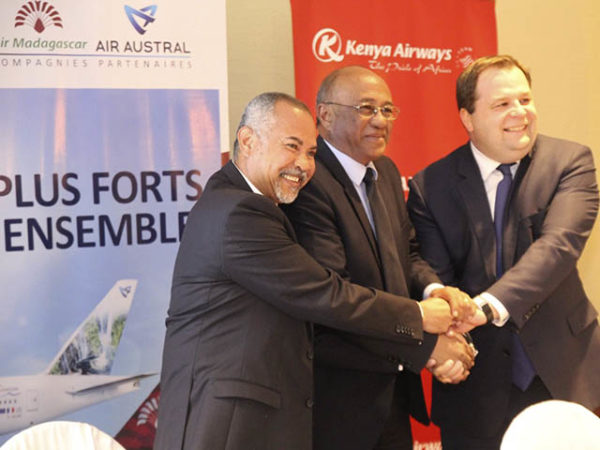 The tandem Air Madagascar and Air Austral has concluded a strategic alliance with Kenya Airways, recorded in a memorandum of understanding signed Wednesday, July 18 in Antananarivo by the three companies.
The aim of this union is to strengthen the collaboration between the three companies that commit themselves to strengthening and developing the services from the African continent to the Indian Ocean, thus offering their passengers an expanded choice of services.
In addition, this new privileged partnership between Air Madagascar, Air Austral and Kenya Airways will have to extend its tentacles into the field of aircraft maintenance and leasing.
It should be noted that this alliance with Kenya Airways is in line with the deployment of Air Madagascar's strategic recovery plan. A plan initiated by the Reunion airline Air Austral which has become since 2017, the second largest shareholder of the company with 49% of the shares.
Journaliste reporter à Financial Afrik, diplômée en Journalisme et communication à l'Institut Supérieur Entreprenariat ship et de Gestion (ISEG) de Dakar.
Bloggeuse, panafricaniste, elle est membre de l'Union Internationale de la Presse Francophone (UPF).
Maguette est une journaliste passionnée d'économie et d'actions humanitaires et intéressée par les questions liées au Genre surtout celles des femmes rurales.