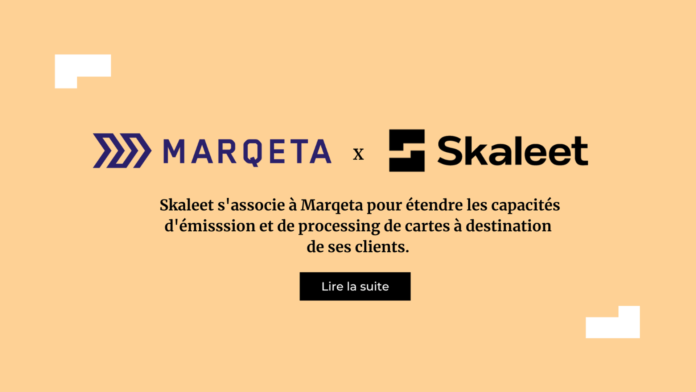 Skaleet, who provide the next-generation Core Banking Platform (CBP), have partnered with, NASDAQ listed, Marqeta, the global modern card issuing platform, to further extend its offer to financial institutions.
The partnership will enable Skaleet to offer its customers a turnkey solution covering core banking and now additionally physical or digital card issuing. This partnership will ultimately benefit consumers whilst also enabling better access to banking services. 
Skaleet enables financial institutions to launch new banking products and services at a competitive price. Through its open, modular, and flexible CBP, Skaleet offers customers increased customization of its innovative and scalable banking solutions.
Founded in 2009, Marqeta is focused on simplifying payment transactions and offers a scalable and reliable platform for customers across industries. Enabled in 39 countries so far in EMEA, APAC and North America, Marqeta is a modern card issuing platform and has enabled the development and launch of innovative, and reliable payment solutions.
Vidya Peters, Chief Operating Officer at Marqeta, said, "We quickly saw a cultural, technical and business fit between our two organizations. We are thrilled to be working with Skaleet to help their current and future customers develop innovative card programs."
Hervé Manceron, CEO and co-founder of Skaleet said, "Today, it is essential for financial institutions to be able to innovate quickly and adapt to change. The ecosystem we have built relies on expert partners who are aware of this issue and Margeta are a natural partner. We are delighted to have partnered with them enabling us to further expand our offering."
The partnership between Skaleet and Marqeta is diverse. From a technology perspective, Marqeta's application programming interface (API) is integrated into Skaleet's platform. As a result, Skaleet can leverage Marqeta's API to create cards, manage authorization, help customers to tackle fraud, reduce technical resource requirements, and lower launch costs for financial institutions. Through this collaboration, Skaleet is expanding its capabilities and offering to customers.
Both companies share a common set of values focused on transparency, people, cutting-edge technology and the ability to provide the best services to their customers, and ultimately consumers. Providing open access to technology is the best way to support mutual growth and deliver better experiences to both companies' end users.
Kapital Afrik intends to deliver strategic financial information to executives and managers, through a daily newsletter and a website that covers all African finance.