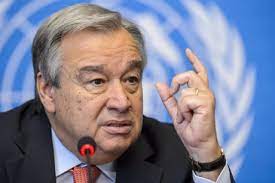 The growth of the world economy, which was around 6% before the outbreak of the health crisis linked to the coronavirus which led to the recession, should take time to pick up again and stabilize for the duration. The United Nations is counting on difficult prospects, especially since the pandemic has exacerbated poverty and inequalities. This slowdown is partly explained by the end of economic and fiscal stimulus plans and by severe disruptions due to supply chains.
According to a study by the United Nations Department of Economic and Social Affairs, after a revival of activity punctuated by a growth of 5.5% in 2021, the world economy could begin a downward slope with a growth rate of 4% in 2022 and 3.5% in 2023. An economic imbalance caused by four main factors which are new waves of Covid-19 infections, persistent labor market challenges, prolonged supply chain challenges and rising inflationists.
"Now is the time to close the gaps in inequality both within and between countries. If we work in solidarity as one family, we can make 2022 a year of true recovery for people and economies," said UN Secretary General Antonio Guterres (pictured). Hence the need to take "better targeted and coordinated political and financial measures at the national and international levels".
Admittedly, growth has been particularly slow in the United States, China and the European Union (EU). But the situation should be more difficult for developing countries, regardless of the analysis that predicts that Africa and Latin America and the Caribbean will experience gaps of 5.5% and 4.2% respectively to pre-pandemic projections. Indeed, the slow pace of job creation is not enough to compensate for past job losses.
Moreover, the external debt burden is unsustainable, the additional indebtedness caused during the pandemic and the increase in debt servicing costs have brought many developing and low-income countries to the brink of a debt crisis. debt.