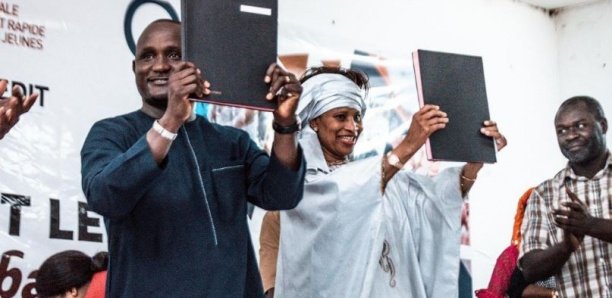 The nanocredit adventure continues in the municipalities of Senegal. Podor has had a nano-credit point since Friday, June 11, 2021. The General Delegate for the Rapid Entrepreneurship of Women and Youth Mr. Papa Amadou Sarr launched the Podor nano-credit point under the Presidency of the Mayor of the city, Mrs. Aissata Tall Sall and the presence of the President of the Departmental Council Mr. Mamadou Dia.
This launch was preceded the day before by the enlistment of Professional and Interprofessional Organizations of women and young people for whom the first funding was granted thanks to the partners Wave, Yup, Wizall and Free money, Intouch for more accessibility for the targets .
"I enlisted yesterday with my group and this morning I received my credit on my phone, no hassle, no administration fees. This is all we wanted to work with dignity, "said a beneficiary, head of a women's group in Podor, during the ceremony.
Podor's nano-credit point has an initial envelope of 40,971,982 FCFA intended for 349 target beneficiaries. In Podor, the main targets of this product are traders, restaurateurs, breeders among others.
The nanocredit adventure began for the DER / FJ in June 2020 at the Central Fish Market in Pikine with an initial amount of 25,000,000 million. One year later, 1,367 players in this market were able to benefit from it with 9,495 loans granted for a total financing volume of 1,014,775,000 FCFA as of June 11, 2021 and a repayment rate: 98.9%.
These results sufficiently demonstrate the interest that the targets have for this local financial service intended primarily to support the day-to-day activities of auto-entrepreneurs, in particular "informal" who do not have access to the traditional financial system. The funding ranges from 10,000 to 300,000 Francs with a repayment period of 1 to 3 months.
The Head of State Macky Sall, who measures the social and economic impact of this product, asked the DER / FJ to deploy nano-credit points in the various localities of the country. Thus, nano-credit points have already been deployed in particular at the Yoff Fishing Quay, in Kaffrine, Kédougou, Tambacounda, Touba-mosque, Mbacké-stopover, Podor, Matam, Ourossogui and Linguère. The dynamic of deployment will continue throughout the territory.
Nanocredit figures prominently in the emergency program for employment and socio-professional integration of women and young people with an amount of 43.3 billion for 3 years. A line of more than 12.7 billion CFA francs has been allocated to nano-credit in the 2021 amending finance law.