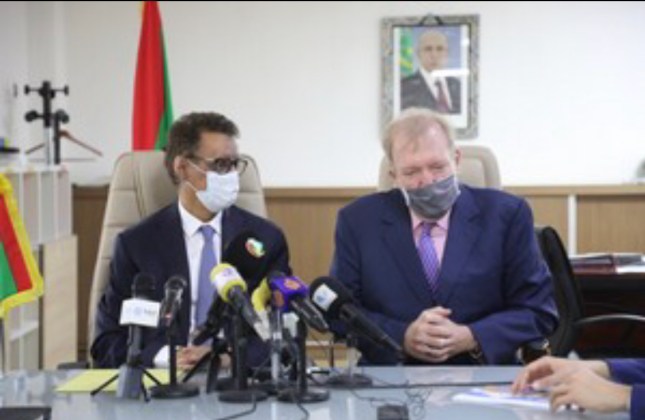 CWP Global is preparing to build a Power-to-x project of 30 GW or 30,000 MW in Mauritania at a total cost of $ 40 billion, this project is the largest of its kind in the world.
The signing of the MoU by Mauritanian Minister of Petroleum, Mines and Energy Abdessalam Ould Mohamed Saleh and Mark Crandall, CEO of CWP Global, was announced today in a statement from the MEPP. Named AMAN, the project will be developed in northern Mauritania on a desert site of approximately 8,500 km². The goal is to create "a stable export vector that will generate thousands of new jobs in construction, local manufacturing, operations and export facilitation," says Crandall.
AMAN will have a transformative effect on the Mauritanian economy, generating billions of USD in income and providing access to cheap electricity and water for the population and for operators of the economy, continues the CEO of CWP Global.
"The Mauritanian government is grateful to CWP and its CEO, Mr. Mark Crandall, for their trust and expresses their unwavering commitment to this monumental undertaking," said Abdessalam Mohamed Saleh.
Towards a battle of titans between Mauritania and Morocco
The signing between Mauritania and CWP Global of the memorandum of understanding for the development of the 30 GW (30,000 MW) "Power-to-X" project follows a process already underway aimed at the development of blue hydrogen, which fundamental source is natural gas (GTA and Birallah project) and whose main production process is based on carbon capture, usage and storage (CCUS).
In this perspective, Mauritania has already started a consultation process for the development of a roadmap for the hydrogen industry.
Morocco, which has already drawn up its "Green Hydrogen" roadmap, continues to develop the power-to-x sector through the framework of a partnership agreement signed with Germany: PAREMA (Partenariat Energétique Maroco-Allemand). This agreement aims to develop the green hydrogen production sector and to set up research and investment projects in the use of this ecological source of energy.
The Ministry of Energy, Mines and the Environment has already set up a National Commission for Green Hydrogen and Power-to-x. With the support of Iresen, initiation of the project of a new Moroccan research platform for Power-to-x. This infrastructure, with an investment budget estimated at around 150 million DH, will be dedicated to the R&D demonstration of "Power-to-x" technologies with a diversified research program on the applications of hydrogen in the production of molecules high added value greens, such as ammonia and methanol.
In this context, Morocco has created a national research and development platform, in this case the "Green H2A" center. This project is intended to be a test platform comprising small power pilots (1 to 5 mwh) of electrolyses, green ammonia, green methanol and synthetic fuels.
It also includes a MegaProject to build a hydrogen plant. The first of its kind in Africa. With an electrolysis capacity of around 100 MW, the site's commercial commissioning is scheduled between 2024 and 2025; in addition to carrying out a pilot project for the production of green ammonia.
Morocco thus wishes to capture 4 to 8% of the global hydrogen market, which represents a deposit ranging from 150 to 400 billion euros. Going fast, Morocco had planned to organize the first edition of the World Power-to-x Summit or World Ptx Summit 2020 which was held virtually – due to covid – from December 1 to 3.
In addition, the giant ACWA Power is Morocco's partner in the investment and development of renewable energy megaprojects in the country.
Still in the "Energy Transition" trend, the G5 Sahel (Mauritania, Mali, Niger, Burkina Faso and Chad) is still pursuing its Desert-to-Power (D2P) project supported in this by the African Development Bank and the Green Climate Fund.
Note that the pioneer in this vision of producing renewable energies in the Saharan desert to supply Europe and Asia is the Desertec project led by the German Dii Desert Energy. This ambitious and pharaonic project still comes up against multiple obstacles, both financial and political.
With the agreement concluded today in Nouakchott, we can say that with CWP Global in Mauritania and ACWA Power in Morocco, we are going to witness a battle of titans for the great benefit of the energy transition, and of which Africa will be the key arena.
Kapital Afrik intends to deliver strategic financial information to executives and managers, through a daily newsletter and a website that covers all African finance.