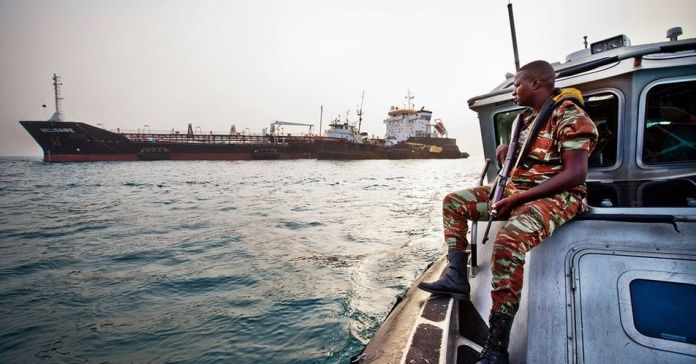 Anger and exasperation. About 100 carriers and shipping companies signed a petition on May 18 calling on the international community to urgently address the problem of piracy in the Gulf of Guinea.
This area now concentrates almost all cases of piracy and violence. In 2020, 130 crew kidnappings for ransom demand out of the 135 recorded worldwide took place in some 5,700 km of West African coast. It also accounts for nearly half of piracy and ship assault cases according to the International Maritime Bureau (IMB), an international body created in 1991.
The latest incident dates back to March 11 when pirates attacked a Maltese-flagged vessel and its crew off Cotonou, Benin. Shortly before, on February 8, a fishing boat had been used to assault another vessel.
The petition is brought by the Baltic and International maritime council (Bimco). This association, whose head office is located in the suburbs of Copenhagen in Denmark, represents 65% of the world tonnage. Its members cover more than 120 countries around the world.
The text was notably signed by the most important shipowners such as the Danish Maersk, the Chinese Cosco or the German Hapag-Lloyd. These signatories call for the protection of their activities by creating a global maritime force capable of monitoring West African waters or even carrying out intelligence missions.
The trends for the first quarter of 2021 are worrying. According to the IMB's Piracy Reporting Center (PRC), 38 incidents have so far been documented. 89% of attacks, or 33, resulted in an assault on board ships. If this figure marks a decline from the 47 incidents recorded in 2020 during the same period, the attacks seem, on the other hand, more violent. 40 crews were kidnapped during the first three months of the year compared to 22 during the same period in 2020. Only one incident was reported off the coast of Somalia, an area which, a few years ago, concentrated the most. attacks.