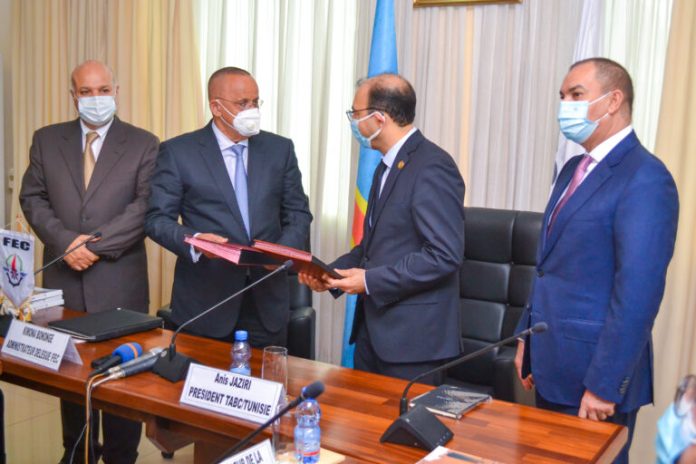 The Fédération des entreprises du Congo (FEC) and the Tunisia Africa Business Council (TABC) undertake to encourage and facilitate actions aimed at promoting economic partnership between Congolese and Tunisian companies, and strengthening relations between the two organizations, the development and widening of the relations of their members in Tunisia and DR Congo, under the terms of a three-year partnership agreement signed by Kimona Bononge, Managing Director of the FEC, and Anis Jaziri, President of TABC, Thursday 25 March in Kinshasa.
According to information, the two Chambers of Commerce have come together to establish the terms of their collaboration, counting on the extent of their networks of contacts and with the objective of developing their mutual activities in the service of business leaders and the entrepreneurial ecosystem.
The FEC is committed to informing and involving TABC members of all the events it organizes. It will have to put its expertise to the benefit of TABC, support Tunisian companies to develop in the DRC and make the FEC network in DRC available to TABC. It also has the obligation to allow the Tunisian structure to benefit from the content of its portal by setting up one or more links on the FEC website. It must, moreover, communicate on the events on the portal of the FEC as long as the object of these is lawful and is not contrary to the general conditions of use of the portal, by accompanying TABC in the search for the necessary financing. important projects to be carried out by Tunisian economic operators in the DRC.
As far as it is concerned, the Tunisian Chamber of Commerce undertakes to make available to the FEC, information, advertisements, projects and proposals relating to economic activities in Tunisia and Africa. In addition, it has the obligation to exchange information on trade fairs and exhibitions to be organized in Tunisia and Africa, and to inform the FEC of the organization of sectoral trade fairs, trade and economic promotion events. , missions of investors and entrepreneurs.