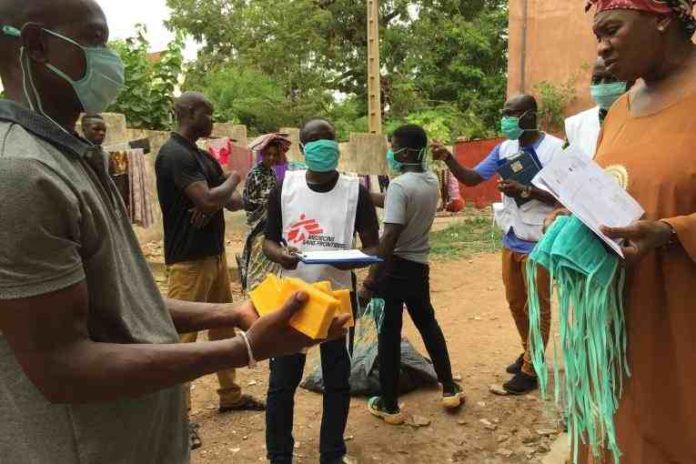 MSF teams are assisting the Ministry of Health with treating severe cases and efforts to contain the virus in several of the city's communes.
Since early December 2020, Mali has seen a surge in positive cases of Covid-19. The second wave of the pandemic is mainly affecting Bamako, where over 60% of cases have been registered. Communes V and VI are particularly hard-hit. Further aggravated by the Harmattan—the cold desert wind that every year causes numerous acute respiratory infections—, this latest wave has been characterised by a sharp rise in infections and patients developing severe forms of the disease requiring them to be hospitalised. Whereas Mali had less than 300 cases a week at the height of the previous wave, in mid-December this number rose to 679. According to Ministry of Health figures, of the 7,664 cases officially registered since the pandemic first broke out to 11 January 2021, 5,326 have recovered and 2,039 continue to receive treatment. There have been 299 deaths in a population of around 20 million.
Given the urgency of the situation, and to support its national partners, MSF has resumed emergency response activities in five Bamako communes. First, MSF is assisting Ministry of Health medical staff with scaling up capacity to treat patients with severe forms of the virus in a 100-bed unit allocated to Covid-19 patients in Point G University Hospital. We have set up a liquid oxygen production plant in the hospital to deliver oxygen to all beds occupied by critically ill patients. And second, MSF teams are supporting the Ministry of Health with following up contact cases, delivering homecare to patients who have Covid-19, but do not need to be hospitalised, and identifying those who may require in-patient treatment. MSF's assistance also includes organising outreach initiatives to raise awareness and provide information to people living in five of Bamako's six communes on how to protect themselves from the virus and prevent it spreading. Furthermore, MSF is helping to make and distribute over 60,000 locally produced facemasks, distribute soap and set up hand-washing stations in public spaces across Bamako.
"The most striking difference between the first and second wave is the escalation in severe cases. Although in recent months Mali's authorities have reinforced the system for treating them, given the scale of this second wave MSF is providing support with personnel and medical supplies and helping to scale up capacity to be able to deliver oxygen to the most severely ill patients", explains Florence Uzureau, MSF's Covid-19 project coordinator in Mali.
MSF is also helping to reinforce the measures put in place in referral health centres by the Ministry of Health to protect health workers and people suffering from chronic diseases, such as diabetes, cancer, high blood pressure and other cardiovascular disorders. MSF teams are working with civil society associations to ensure better protection for the vulnerable.
During the first wave of the pandemic that lasted from March to August 2020, 39,946 people in Bamako benefited from the assistance MSF provided in support of its partners. Our teams distributed 68,486 facemasks and 26,862 soap bars, gave over 2,300 inhabitants information on prevention, treated 418 patients, set up 85 hand-washing stations and distributed 1,663 bottles of liquid soap.
In addition to Bamako, MSF is deployed in Niono, Kidal, Gao, Ansongo, Douentza, Koro, Bankass, Bandiagara, Tenenkou and Koutiala. Our teams have been supporting health districts in the fight against Covid-19 with raising people's awareness to the virus, testing, treating patients and following up contact cases. MSF has also provided personnel, protective equipment and supplies to ensure safe delivery of care to patients.