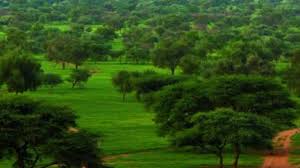 The initiative to create a Great Green Wall in the African Sahel region has succeeded in attracting new funding to the tune of $ 14.2 billion on the sidelines of the One Planet Summit for biodiversity jointly organized by France, the Nations United and the World Bank organized Monday January 11 in Paris.
The amount allocated is for the period 2021-2025, a success given that the expected amount was around 10 billion dollars for the next five years. Mauritanian President Mohamed Ould Cheikh El-Ghazouani, current President of the Conference of Heads of State and Government of the Pan-African Agency of the Great Green Wall, welcomed the establishment of the initiative.
"The mobilization of this additional funding through an innovative approach will certainly contribute to achieving the objectives of the Great Green Wall which, by 2030, aim to restore 100 million hectares of degraded land and the creation of 10 million green jobs, "he said.
The project aims to restore, by 2030, 100 million hectares of degraded land with vegetation, which would create 10 million jobs and absorb 250 million tonnes of carbon from the atmosphere. Also, the initiative will allow countries in the region to access the necessary funding to increase local investments and build the capacity of national agencies of the Great Green Wall.
Located on the southern flank of the Sahara Desert, the Great Green Wall stretches from the Atlantic coast to the Red Sea. The project needs $ 33 billion to achieve its ambition by the year 2030 of creating an 8,000 km long "wall" involving 11 countries.
journaliste économique, titulaire d'un Master II en Communication et Journalisme de l'Institut Supérieur des Sciences de l'Information et de la Communication de Dakar (ISSIC). Grande amatrice de lecture et de musique. Féministe dans l'âme et passionnée de mode.