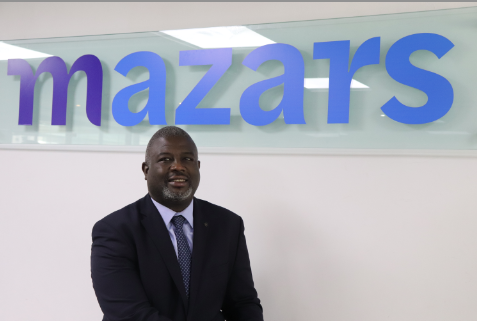 Casablanca, October 21, 2020 – Mazars, an international group specializing in auditing, taxation and consulting, today unveils its new brand identity in more than 90 countries and territories, thus signing a major milestone in the evolution of the company. This brand redesign reflects Mazars's desire to offer an alternative and bring a different perspective to the audit, tax and consulting market. On the other hand, it reaffirms the group's commitments to building a just, prosperous and sustainable world.
Hervé Hélias, Chairman and CEO of the Mazars Group, declared: "I am delighted to unveil this new identity of our brand and its positioning, after two years of in-depth consultation with our partners, employees, customers and stakeholders. This new identity reflects who we are today and who we aspire to be tomorrow. Within our integrated organization, our associates work as a single team, connected and united across the globe. Today we have both the scale to serve large international clients and the agility to adjust our approaches and deliver the solutions our clients need. In each country where we operate, our teams combine knowledge of the national culture and a global perspective, offering a variety of clients a real partnership, and the confidence they need to drive their activities and achieve their ambitions. "
Balanced growth and successful expansion
Mazars launches its new brand against a backdrop of continued balanced growth and successful expansion, reflecting the strength of its market position. Last year, the group recorded sales of 1.8 billion euros (2018-2019 fiscal year), up 10.4% (excluding the exchange rate impact of + 0.2%) compared to to the previous exercise. This increase in revenue in 2018-2019 was driven by strong organic growth of 9.0%. The new brand also reflects the evolution of Mazars, which has become an international group with operations in more than 90 countries and territories, with today nearly 25,000 employees worldwide. Regarding the growth and expansion of Mazars, Hervé Hélias said: "In 75 years of existence, our founding principles have not changed, but our company has evolved. Our size has doubled over the past ten years: the diversity of our services, clients and talents has increased tenfold as we have grown. Today we audit with nearly 2,000 EIP clients around the world; 30% are listed companies in France and China and we serve nearly 140 large listed companies. At the same time, we support more than 50,000 private and family businesses, whether they are private clients, start-ups or international companies that are already well established ".
In Morocco On the Moroccan market, Mazars has been offering audit and consulting services for over 40 years and is one of the leading firms. For Abdou Diop, Managing Partner: "As an international player rooted in our territories, we have a responsibility to contribute to the economic and social development of Morocco and the African continent for the well-being of our populations. Through our action, we are committed to our role of ensuring confidence in our economic environment and bringing value to our customers, while providing a framework for the fulfillment of our employees ".
A different and balanced perspective
By collaborating in a united and agile way on a global scale, by cultivating the diversity and the quality of its professionals, the personalization of its approaches and sharing the same requirements of quality and technical excellence everywhere in the world, Mazars wants to bring a different perspective in the audit, tax and advisory market – a singularity consciously reflected in the new brand identity. So, for example, "Mazars University" has just received CLIP accreditation for the second time in a row. This is a major recognition for a corporate university. "We are committed to developing our talents and ensuring their employability. We want to be an employer of choice, by training leading experts in their field and helping them to become inspired leaders, capable of serving our clients with high standards, "said Hervé Hélias.
Mazars continues to invest in auditing – expertise, technology, quality control – and actively contributes to the debate aimed at ensuring the integrity and sustainability of this profession. "The sector needs technical and regulatory innovations, consistent quality standards and choices," explains Hervé Hélias. Alongside auditing, which accounts for almost half of its activity, Mazars has developed a portfolio of accounting, tax, legal and consulting services. This gradual enrichment of the offer was born from the conviction that the complementarity of these expertise is particularly relevant today for organizations of all sizes, operating in complex regulated environments and with an imperative of "sustainable" development.
Finally, the new brand identity reaffirms the raison d'être and the historical values ​​of Mazars of integrity, responsibility and transparency. Among the subjects at the heart of its engagement are studies and intellectual contributions to understand the role of financial services in the fight against climate change. Another line of work is to nurture constructive and collective reflection aimed at strengthening the practices and the audit market, a profession essential to the public interest.
Mazars is an international and integrated firm specializing in auditing, taxation and consulting, as well as in accounting and legal services. Present in more than 90 countries and territories, the firm relies on the expertise of 40,400 professionals – including 24,400 within the integrated partnership and 16,000 within the "Mazars North America Alliance" – to support companies of all sizes to every stage of their development. In Morocco, 11 Partners bring together more than 180 employees.
Kapital Afrik intends to deliver strategic financial information to executives and managers, through a daily newsletter and a website that covers all African finance.