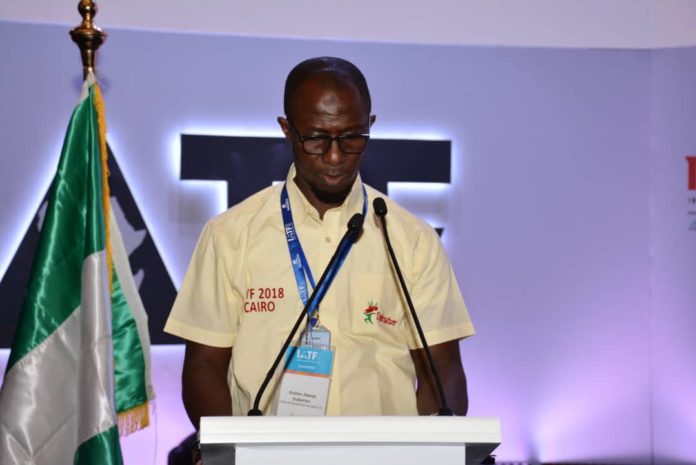 Dates syrup and dates Powder are making wave in Nigeria, in the Sub African region and in some parts of Europe. The brain behind Dates Nature Support Nutrients Ltd. Dr Sulayman Ibrahim says Dates nature is a company to watch out for in the future. He spoke to us.
Sir, reports reaching us say Nigerian-based health-supporting processed dates have been appraised as the best in sub-Saharan Africa by the French government. Do you confirm this?
Sulayman Ibrahim : Oh yes ! It is absolutely true. Let me state here that Dates Nature Support Nutrients Ltd , makers of dates syrup and powder was established in 2017 as the pioneer company for Dates processing sweetener in Nigeria. And our products, I mean dates syrup and dates Powder are to date, the only National Agency for Food and Drug Administration and Control (NAFDAC), approved healthy  supporting alternative dates sweetener with a patent license approved by the Federal Republic of Nigeria. Our products had been clinically proven to be consumable for people of all ages across the genders irrespective of health status. Even those confirmed to be diabetic can safely use the processed dates whether in syrup or powder form without any adverse health effect. They are also of  immense benefit for pregnant women and nursing mothers, given its potency for enhancing lactation. Note also that our products are recommended for men suffering from low libido and erectile inadequacy and the products guarantee effective assistance towards getting over constipation and hangover. The uniqueness of our processed dates both in syrups and powder are 100% non-additive, no sugar, no artificial sweetener nor preservative; which is the first and for now, the only of its kind in Africa.
Interesting! Can we meet the ''brain'' behind Dates Nature Support Nutrients Ltd, makers of dates syrup and powder?
Sulayman Ibrahim :
My name is Sulayman Ibrahim. I am  the Chief Executive Officer ( CEO) of  Dates Nature Support Nutrients Ltd which is subsidiary of our ITT companies. I used to be an ITT ( Information, technology and telecommunications ) consultant. I have worked for over a decade for so many local and international companies in Nigeria. I am also a Ph.D. holder in the field of Security and Artificial Intelligence. The ''birth'' of Dates Nature Support Nutrients Limited in 2017 came out of passion and the desire to establish more ventures, one of them is to become an entrepreneur in the agro processing industry.  Our own agro processing industry  fall under health.
Why dates in particular when we have thousands of products in the agriculture sector ?
Sulayman Ibrahim : Why dates ? It is a valid question. That is where the research led us. Actually, the passion came out of a visit to a friend in Qatar. We talked about dates and sweetener. We also discussed about  how people have being suffering, how the global health is affected by all those artificial sweeteners. We then thought about the alternative people can have apart those artificial sweeteners that can be very healthy without additive nor preservative. Hence, the research led us to how dates can take over the globe in terms of natural sweetener that is healthy and that is beneficiary to the general public.
 How far have you gone ?
Sulayman Ibrahim : So far so good ! We actually established this company in 2017. We started on a very low key. A sort of local production. We were doing it domestically. A kind of sample tasting to let people  give their feedback. From the feedback we had from the  consumers, we decided to make it a business. So towards the end of 2017, we started processing all the necessary certifications, documentations, registration, etc… And that led us to 2018 where we move out of the domestic production. After getting all the proper documentations and registration from the regulatory agencies, we started selling on a full local market. And the appreciations continue. I must say here that we are the pioneer company for Dates processing sweetener in Nigeria and the Sub African region. And  we live on our feedbacks up to date. And with that,  we were also able to join the Nigeria Export and Promotion Council (NEPC) that saw light in what we are doing. That how we earn the first international exposure of our products to Paris and other  African and European countries for various food events for the exhibition of our products. I can say so far so good.
Sir, let's talk about the strength of your company at the beginning and now in terms of staff and the volume of your production ….
Sulayman Ibrahim : The strength of the company continue to increase to strength o. Daily basis. From four workers at the beginning, we had six and later eight. Now we have fourteen full staff aside the contract staff. Our production also starts increasing. We started in kilograms monthly and now we produce two to four tons monthly. And so far, we have no regrets. Being a pioneer venture, it is tough because we need to deal with so many things. You know dates syrup and powder we are producing are very unknown in Africa aside the northern Africa. So we need lots of publicity and advertisement to convince our people that the dates fruits they are eating is the same dates syrup and powder we are processing with 100% non-additive, no sugar, no artificial sweetener nor preservative. We are pushing and the awareness is coming.
We all know that agro processing industries demands a lot as regards funding. How do you manage that aspect ?
Sulayman Ibrahim : That has being our greatest challenges. In a country like Nigeria, nobody is willing to help unless you are at the topmost. So the going and the success of this venture so far has been the sole effort of the Group company of this venture, I mean Abrott Technologies that is financing the Dates Nature Coy. As a new sister company, we need a lot of funds to grow in terms of research, production, equipment, staff welfare, training, travelling, etc…..Funds have been our challenges but we are pushing. We actually need funds, financial partners and investors who will be ready to understand the idea and focus of our dates venture and where we are going because we have a lot still coming on Dates . There are other products we are doing research on. They are also on dates. I will not want to reveal some of the products here for now.
Since you said funding is key in dates venture. How much do you need to process two to four tons of dates every month ?
Sulayman Ibrahim :  Oh !  We need between 5 to USD 7.000 monthly to process 2 to 4 tons of dates. But so far, so good. As at 2019 audit, the dates nature has grown up to USD 180 000 as investment.
What do you expect from the investors that are willing to invest in the dates venture ?
Sulayman Ibrahim :  We expect them to come and partner with us in terms of our managerial expertise and our date to date activities because we want our dates venture to grow beyond the shore of Nigeria as though we have presently but still need much more . We want to escalate our production. The equipment we are using now are below our capacity of production. We need new equipments both production and packaging and we need to expand  Dates Nature in other areas of our research project products. Reason why we need investors to partner with us so that we can take our dates venture to the next level.
How do you see Dates Nature Support Nutrients Limited in the next five years ?
Sulayman Ibrahim : First, we want Dates nature to be identified as one the companies to be listed in the Nigeria Stock Exchange (NSE). Secondly, I would like to see Dates nature as the best or among the first ten dates products exporters out of Nigeria. We don't want to be a consuming country any more, we want to be an exporter of great and quality products value. We are in the process and I am sure before the next five years, Dates nature will be a great exporter of dates products out of Nigeria to the rest of the global economy.
Your parting shot sir  !
Sulayman Ibrahim :  Our parting shot is our mission to make dates natural alternative sweetener for all while looking out  for great  investors globally to come and partner in our  wonderful products because tomorrow might be too late for anyone to come in. Date nature is a company to watch out for in the future.