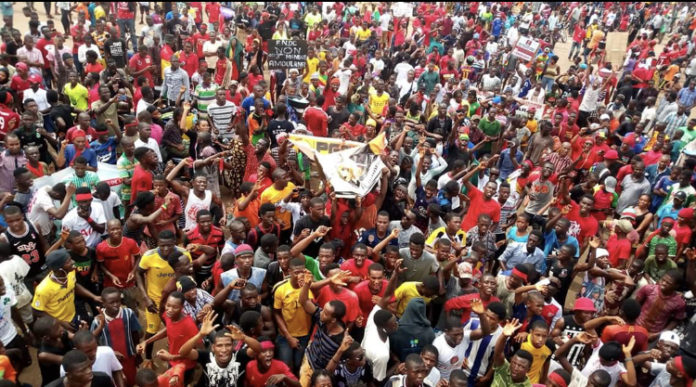 By Mamadou Aliou Diallo, Conakry.
Faced with the determination of the National Forum for the Defense of the Constitution (FNDC), the Alpha Condé regime now seems to privilege "diplomacy". Having finally authorized the NDFC march of this Thursday, October 24, 2019, the power has offered a life-size survey. The street opposes any constitutional change, with or without a third term. This is the message chanted by thousands of Guineans who swept through the streets throughout the country. The monster demonstration is added to the one organized the day before and which saw women protesting the killings.
The motto remains unchanged: no question of a third term for Alpha Conde. The protesters demand that the latter make a public statement to completely bury the project, which, in the opinion of many observers, would threaten the stability of the country and possibly that of the West African subregion.
In Conakry, the capital, but also in Kindia, Koundara in Lower Guinea; Mali yimbering, labé, Lélouma, Dalaba, Mamou, etc. in average Guinea, there are tens, even hundreds of thousands of citizens who took to the streets, dressed in red to say no to any attempt to tamper with the constitution by the regime of Alpha Condé.
Among the leaders present at this Thursday's march were Cellou Dalein Diallo of the UFDG, FayaMillimono of the Liberal bloc, Sidya Touré of the UFR and many human rights and human rights activists. civil society. No major incidents were reported at the last observations.
The NDFC estimates that it mobilized at least 2 million people during this demonstration day. The day of Friday is decreed by the movement as day dead city.
Je suis Mamadou Aliou Diallo, journaliste- Blogueur, Web activiste et acteur de la société civile (ONG). Diplômé de l'ISMGB (Institut supérieur des Mines et Géologie de Boké) avec une licence en Génie Traitement- Métallurgie; Formation en Communication et journalisme à JMJ-Communication, Administrateur du site Guinée économie et signe pour le site d'informations en ligne Guineeconakry.info (GCI), un site distingué à plusieurs reprises, meilleur site internet Guinéen, cité et référencé par plusieurs médias internationaux.