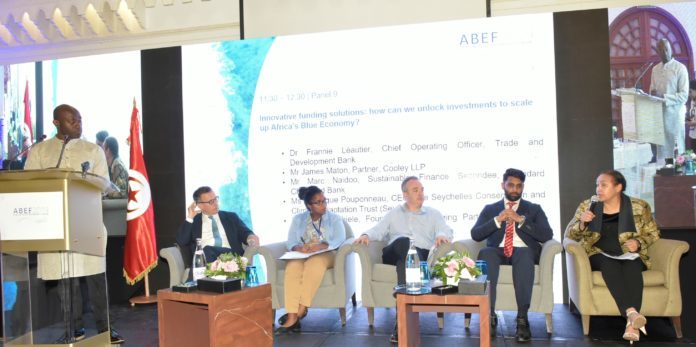 The prospect of a fully sustainable blue economy for Africa has grown considerably after the second Africa Blue Economy Forum (ABEF2019) held in Tunis on 25-26 June. The fisheries, aquaculture, shipping, ports, energy and finance sectors were all highlighted at ABEF2019, which brought together ministers, business leaders, international investors, academics and environmental organizations around the world.
The need for direct action to bring environmental, economic and social benefits to Africa, and in particular to its coastal countries, given that 90% of Africa's trade is by sea, was emphasized during two days of reflection. Stakeholders at ABEF2019 agreed on the urgent need for better cooperation among ocean stakeholders, better governance and better law enforcement. Regional, national and local strategies are needed to develop a long-term plan and develop partnerships beyond short-term projects. Engaging with new technologies and innovative financing mechanisms are also essential to shaping a sustainable blue economy in Africa.
Leila Ben Hassen, founder of the ABEF and CEO of Blue Jay Communication, who organized the forum, said: « We can no longer be satisfied with getting into the water, we must dive and be decisive to bring and bring the change that will serve Africa for many years to come. It's not as usual anymore.
Africa must have a blue sustainable business plan that will have a positive impact on the environment, the economy and society. « A blue sustainable business plan will accelerate Africa's transformation, create jobs, sustain livelihoods and empower communities, while providing climate change impact measures.
This was recognized at the ABEF2019 Forum by a series of panels on topics exploring how governments and the private sector can collaborate. fight against ocean pollution; innovative financing solutions; strengthening food security and sustainable growth of the fisheries sector; sustainable ocean energy; How to encourage more women to work in maritime value chains and seize the opportunities available to the youth generation in the blue economy.
The main outcomes of ABEF2019 were: The World Marine Council, the Tunisian Maritime Cluster and SETAP Tunisia signed a Memorandum of Understanding to create a platform to connect, share information, scientific research and technology between Mediterranean and coastal African countries. In addition, WIMA Africa (Association of Women in the Maritime Sector) has launched the Tunisian Chapter with the aim of empowering women and strengthening collaboration between Tunisian and African women in the maritime sector.
The event attracted a large number of high-level speakers able to bring about change and opinions, including government ministers, HE Samir Taieb, Minister of Agriculture, Water Resources and Fisheries of the Republic of Tunisia; HE Mokhtar Hammami, Minister of the Environment of the Republic of Tunisia; HE Elizabeth Naa Afoley Quaye, Minister of Fisheries and Aquaculture of the Republic of Ghana and HE Kwaku Ofori Asiamah, Minister of Transport of the Republic of Ghana. Information on ABEF2019 is available on the website. The details of ABEF2020 will be released later this year.
Financial Afrik se propose de délivrer l'information financière stratégique aux cadres et dirigeants, à travers une newsletter quotidienne et un site web qui couvre toute la finance africaine.