Guinea hosted the sixth edition of the Mines Guinea Symposium, April 24-25, 2019 in Conakry, under the theme "Mining and infrastructure synergy: an issue for an integrated and sustainable development of Guinea" under the leadership of the Guinean Ministry of Mines.
The fifth edition held in May 2017 in its new formula brought together several multinational mining companies and their subsidiaries based in Guinea, it is under the same impulse of fervor and renewal in mining investment that the work of the sixth edition opened this Wednesday in Conakry.
In total, 630 official delegates from some 40 countries joined Conakry to position themselves in particular on the bauxite market. Among them are the presence of world-class suppliers of goods and services, academics, international finance, prospectors, consulting firms, engineering firms, technical and financial partners, and various other players.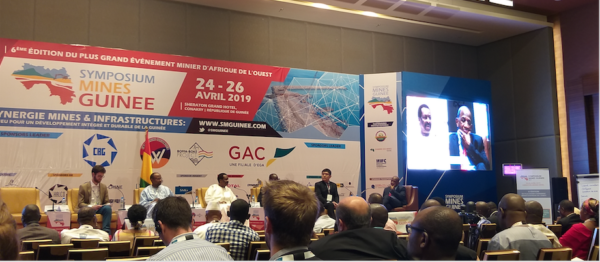 According to the Guinean Minister of Mines, this international meeting aims to promote peaceful coexistence among the various stakeholders in the mining sector, in particular through the preservation of the environment, community development and the promotion of local content, the mutualisation of infrastructures , establishing domestic links between the mining sector and other sectors of the national economy.
Guinean President Alpha Conde, who presided over the opening ceremony, reminded all stakeholders involved in the extraction of minerals in Guinea that it is time to move on to the transformation. He explained that the Guinean State's objective is "to create the most favorable conditions for mining companies to flourish fully in free competition; that Guinea can make the most of its mineral wealth and significantly improve the living conditions of the Guinean people through local content, "said the Guinean head of state.
Several topics were discussed around high-level panels held by experts (among others, Donald Kaberuka, Southbridge Group Inc, Aboubakr Traoré ABT, Boubacar Bocoum, Chief Expert Mines World Bank, Aliou Maiga, Director Operations Africa of Western and Central SFI, ….) including the investment framework, prospects for the world market for ores and metals; the real mining potential of Guinea through better geological knowledge; management of social and environmental impacts; alumina bauxite, local content, etc …
To be continued….
Mamadou Aliou DIALLO for Financial Afrik
Kapital Afrik intends to deliver strategic financial information to executives and managers, through a daily newsletter and a website that covers all African finance.