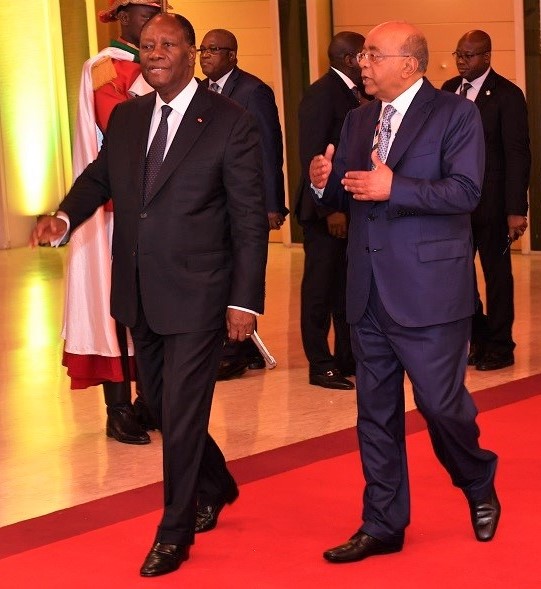 The Mo Ibrahim Foundation held its 12th Ibrahim Governance Week (IGW) "from April 5 to 7, 2019 at the Sofitel Hotel Ivoire in Abidjan, Ivory Coast.
Côte d'Ivoire ranks 22nd in 2018 and leads progressive countries in Africa, according to the Mo Ibrahim Foundation's good governance indices. This is certainly one of the reasons why this foundation, which supports good public governance and quality leadership on the African continent, held its 12 th meeting from 5-7 April 2019 at Sofitel Hotel Ivoire in Abidjan. The various personalities who responded to the invitation of the very wealthy Anglo-Sudanese Mo Ibrahim have essentially referred to "African Migration: Youth, Employment and Mobility" which is the main theme of this "Ibrahim Governance Week (IGW)".
Saturday, April 6, the highlight of this meeting with the Mo Ibrahim Forum, the Ivorian Head of State Alassane Ouattara explained during a general panel that the dynamics of economic growth in Côte d'Ivoire is based on a healthy and competitive macroeconomic framework. as well as a strong promotion of private investment. "We have identified growth areas to receive investments and fought corruption," he continued, referring to initiatives that have helped reduce fiscal deficits, balance of payments deficits, easing debt that is now around 45% of GDP, a monetary policy that controls inflation. "Since we have been in business, inflation has never exceeded 1%, which has allowed economic growth from 2012 to 2018 of 8% per year." The Ivorian President rejoiced. A policy that has had effects, according to him, over six years, to increase GDP by 50% and per capita income of a third. This high-level event welcomed such renowned personalities as Ellen Sirleaf Johnson, former President of Liberia, Festius Mogae, former President of Botswana, Joaquim Chissano Albertp, former President of Mozambique, Jobst Von Kirchmann, Ambassador of European Union, Bono, Co-Founder of One Campaign, Gunila Carlsson, CEO of UNAIDS, Aranda Gonzales, CEO of International Trade Center, Pascal Lamy, President of the Notre Europe Institute Jacques Delors, former DG of the World Health Organization trade.
The other highlight of this day was the conclave of a hundred young people from all over Africa. for the Now Generation Forum around the main theme: "African youth: migration for lack of jobs"; At the opening of this session, the initiator of this event, Mo Ibrahim, stressed the importance of opening this reflection to the young graduates, without interference of politicians in order to give the freedom to African youth to do the real diagnosis of irregular migration in an African socio-economic context that is struggling to employ most of its youth.
But before, Friday, April 5, 2019, the balafon room of the Sofitel Hotel Ivoire hosted the session of the "Africa / Europe High Level Group". This high-level Africa / Europe think tank brings together European and African elites. This is the third meeting of this high-level group which aims to meet regularly on issues related to the political, economic and social challenges of the continent and the priorities to be implemented to make the real diagnosis of irregular migration in an African socio-economic context that is struggling to employ most of its youth. The aim of this panel is to find mechanisms for cooperation between Europe and Africa. And see how Europe can help Africa and vice versa in order to best impact the priorities of bilateral cooperation and thus anticipate in the quest for solutions to the issues of employability, migration, sustainable development, climate change.
It should be noted that on Friday, April 5th, there was the Leadership Ceremony, a tribute party in memory of Kofi Annan.
The forum Ibrahim Governance Week ended this Sunday, April 7 under musical notes at the Palace of Culture Treichville in Abidjan, where renowned artists like Fally Ipupa and Youssou N'Dour gave a concert in the evening.