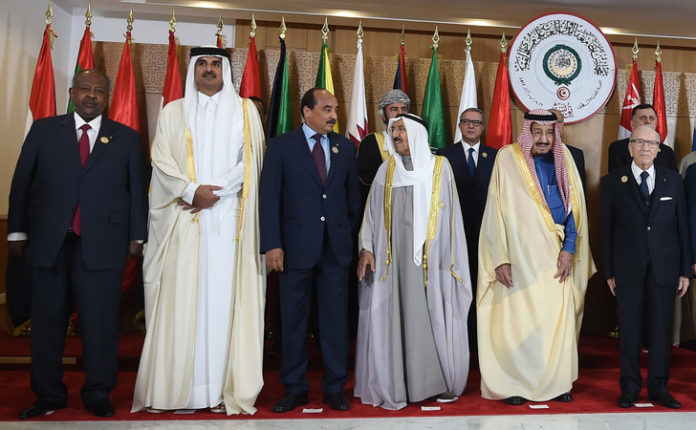 Held on March 31 in Tunis under the cover of a wheel (some emirs had not turned off the engine of their aircraft), the 30th summit of the Arab League was rich in salamalecs and hiccups of any kind. The wall of sound was passed when the old Mauritanian anthem was played instead of the new one. The Mauritanian diplomats accredited in Tunis, officials of the Ministry of Foreign Affairs and the protocol of the President had to undergo this hymn of another century until the end.
The presidential anger shakes more than one member of his delegation while Tunisian officials have made a friendly attack for 24 hours to fix the blunder. Apart from the anger contained in Nouakchott, the duel between Great Saudi Arabia and Little Qatar will be noted all along the summit. Asphyxiated by the delegation of 1,400 officials and unofficials from Riyadh aboard 22 planes, the emir Tamim bin Hamad Al-Thani, the strong man of Doha, hurriedly left the jasmine capital at the end of the speech. opening leaving any latitude to his opponents. At the root of this « affront », a statement by the Secretary-General of the Arab League against Turkey and Iran, two allies of Qatar.
Moreover, this summit marks the end of many illusions.
Faced with the disintegration of its coalition in its war in Yemen, Saudi Arabia is forced to back down, which would be tantamount to accepting the failure of a belligerent strategy bearing the signature of Prince MBS. In cold weather with Rabat, its historical ally in the Maghreb, Saudi Arabia keeps a centerpiece in the region in Marshal Khalifa Haftar, master of the Libyan East. Meanwhile, Rabat is on the side of the Libyan government of national agreement Fayez al-Sarraj recognized by the UN while ensuring that the cold that comes from the Holy Places is not taken advantage of by Algiers, sponsor of Polisario Front and its old project of the Saharawi Arab Republic.
The Algerian Ramtane Lamamra, who came as a true foreign minister (Algeria was not on the agenda of the summit despite many attempts), learned of his surprise dismissal at the height of the summit. Accustomed to political storms, none of the officials made any comment, busy they were writing the resolution condemning Donald Trump in the Golan Heights.
Thus, the whimsical tenant of the White House is the only subject of consensus between Arab leaders champions agreed speeches and braces against the cameras. King Mohammed VI of Morocco who had shunned this summit like most of the previous editions was right: the objective conditions for an Arab summit to succeed are not yet met. « 
Directeur de publication de Financial Afrik. Dans la presse économique africaine depuis 17 ans, Adama Wade a eu à exercer au Maroc dans plusieurs rédactions. Il Capitaine au Long Cours de la Marine Marchande et titulaire d'un Master en Communication des Organisations, Adama Wade vit entre Nouakchott et Dakar.