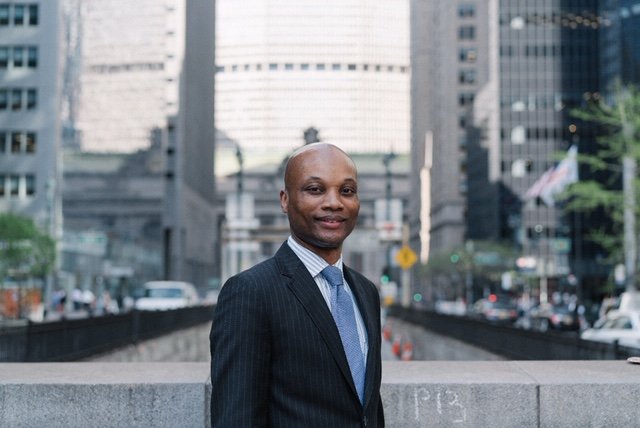 The Africa Fintech Summit (AFTS) will take place at the U.S. Institute of Peace on April 11 in Washington during the week of the Spring Meetings of the World Bank Group and the International Monetary Fund. The AFTS will gather tech and finance leaders, policy makers, and investors from across Africa and the United States to discuss the future of financial technology. Through a strategic partnership with Congo Business Network, the AFTS seeks to engage Congolese entrepreneurs who are working to revolutionize the financial and technology ecosystems. ACTUALITE.CD receives Noel K. Tshiani, founder of Congo Business Network, for today's interview.
Noel K. Tshiani, please tell us about your backgrounds and introduce yourselves to our readers.
Noel K. Tshiani: I am a native of the Democratic Republic of Congo and have lived in the United States since 1996, making it almost 23 years by the end of this year.
On the academic side, I have three university degrees in finance, marketing and political science. I also participated in the Executive Education in Finance program at the Wharton School. In addition, I attended a leading entrepreneurship program through the Kauffman Foundation in New York. And I am a veteran of the United States Marine Corps.
Currently, I am President of Agere Global, an investment advisory and business strategy firm based in New York. I am also the founder of Congo Business Network, an international network of Congolese professionals and entrepreneurs. Its mission is to connect the diaspora to the business world in Congo and in other countries in Africa.
Based on your experience in the banking sector, what can you tell us about fintech?
Noel K Tshiani: Financial technology, or fintech, refers to areas of major innovation in the banking sector. I remember when I first came to the United States, we did not have the ability to do basic banking transactions on a mobile phone. The banking sector has changed a lot, especially over the past 10 years since the introduction of mobile phones that are connected to the internet.
Based on my experience, fintech has enabled entrepreneurs and consumers to be more efficient in how they use banking services. In other words, fintech has given most people the ability to have access to banking services at a lot lower cost when it comes to sending or receiving money. At the same time, individuals can conduct transactions a lot faster when opening bank accounts, depositing or withdrawing funds, or when making changes to an account on the mobile phone using an application or on a computer.
What are the effects of fintech on the economies of African countries?
Noel K. Tshiani: Fintech has the potential to deeply transform how African economies function in the coming few years. Traditional banking infrastructure such as bank branches and ATM machines are very expensive to set up and operate.
Fintech solutions give consumers access to banking services at a lot lower cost and at faster speeds when compared to traditional banking infrastructure. In Congo today for exemple, nearly 90 percent of the population has no access to traditional banking services. It is going to be nearly impossible to increase these rates in substantial way by relying on traditional banking system. Innovation needs to focus on putting in place cutting-edge technology solutions that can remove barriers to access to the financial system.
What resolution do you take to interest African entrepreneurs or companies to fintech?
Noel K. Tshiani: It starts with education. In Congo today, many people still prefer to use cash when buying products and services. I speak with entrepreneurs who have e-commerce platforms and they tell me that most people prefer to pay by cash when they order something on the website rather than pay using a bank card.
Consumers need to get comfortable using financial services using modern technology. And individuals need to be educated concerning how banks work so that there can be more confidence in the banking system, a trend that will lead to more people being willing to try fintech solutions across various platforms such as in stores and on websites.
Through Congo Business Network, do you have any ideas for evangelizing fintech in Africa?
Noel K. Tshiani: Educating people on almost any topic, especially as new as fintech, is a long term process that takes a lot of effort and patience. The network has pioneered the most technologically advanced way to connect the diaspora with entrepreneurs in Congo and in Africa through online events that are organized with LinkedIn Events and Cisco WebEx. Online events have three goals:
Connect the diaspora to professionals and entrepreneurs in Africa; share knowledge and expertise in a sector of economic activity; and create real-time networking opportunities by video among participants on Cisco WebEx.
Through these innovative approaches to reach various people in Congo and in Africa, we have invited speakers to speak on various topics ranging from how to build a company using digital solutions, what is blockchain and cryptocurrency, and how to use legal tech in order to get access to legal services efficiently. We will continue to use various ways to educate people across Africa on many similar topics, including fintech in the future.   
Do you think that African countries can easily embrace fintech? If so, how?
Noel K. Tshiani: Yes, African countries can embrace fintech, although it will take some effort and patience in order to educate people on the importance of using innovative financial technologies. When people are used to doing business mostly in cash, telling them to start using debit cards from banks or mobile applications to conduct financial transactions will be met with resistance because change is not easily embraced by most people.
Education is the starting point when it comes to changing the behavior of people. In many African countries today, people need to be educated about the banking system and about the financial services that bank offer. Fintech is the combination of finance and technology. And when people have the proper knowledge, they will not fear putting money in the bank or using mobile applications to send or receive money, or to order things online.
What are the challenges of fintech for African entrepreneurs and companies?
Noel K. Tshiani: African entrepreneurs and companies face challenges related to acceptance and use of fintech solutions by the general public. And e-commerce platforms face challenges when people don't want to use a debit card on a website. As a result, clients pay in person in cash when a product is delivered at the client's residence.
The technical expertise necessary in order to develop a functioning fintech solution is another challenge today in Africa as most entrepreneurs are self-taught when it comes to programming and coding skills needed to build mobile applications that can compete with traditional banking infrastructure and services.
Interview conducted by Stanys Bujakera Tshiamala from ACTUALITE.CD.
Financial Afrik se propose de délivrer l'information financière stratégique aux cadres et dirigeants, à travers une newsletter quotidienne et un site web qui couvre toute la finance africaine.