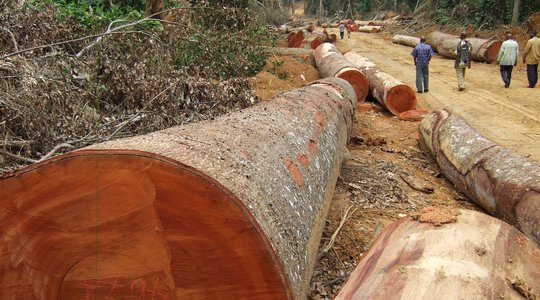 A new Global Witness survey reveals that ten European companies could import Congolese illegal timber worth several million euros to the EU.
For example, ten EU traders import timber from IFCO (Congo Forest Industry), a forest company in the Democratic Republic of Congo accused of ignoring forest laws and the labor code.
In addition to representing a real danger for the humid forests that play a key role in climate regulation, such actions could constitute a direct attack on the EU Timber Regulation, a historical legislation that gives rise to the imposition of penalties. severe.
These European companies, which have introduced 2 million euros worth of illegal or high-risk illegal timber onto the European market, should refrain from sourcing from IFCO as long as these obvious deficiencies the legislation was not investigated. Global Witness's analysis of satellite imagery shows that IFCO operated illegally outside authorized perimeters and exploited the forest on a large scale while provincial authorities suspended operations.
IFCO, a newly established company, inherited logging rights and operations that belonged to Cotrefor, a notorious logging company accused of several illegal activities. Cotrefor is also said to have been linked to a Lebanese conglomerate on a sanctions list drawn up by the US Treasury on the grounds that it would finance Hezbollah.
The IFCO European customers listed in the information document are:
Exott, Belgium
TimTrade, Italy
Edwood, France
Angot Bois, France
JAF Polska, Poland
France Walnut, France
Interarrod, Portugal
Timbearth, France
Carbon Market Timber, France
In addition, large quantities of timber from IFCO were shipped to the port of Valencia (Spain) in August 2018. These shipments appear to have been facilitated by a Spanish agent operating in the timber sector. Contacted by Global Witness, this agent has strictly denied having been the importer of this wood. Global Witness is currently in contact with the Spanish authorities to request an investigation.
Kapital Afrik intends to deliver strategic financial information to executives and managers, through a daily newsletter and a website that covers all African finance.