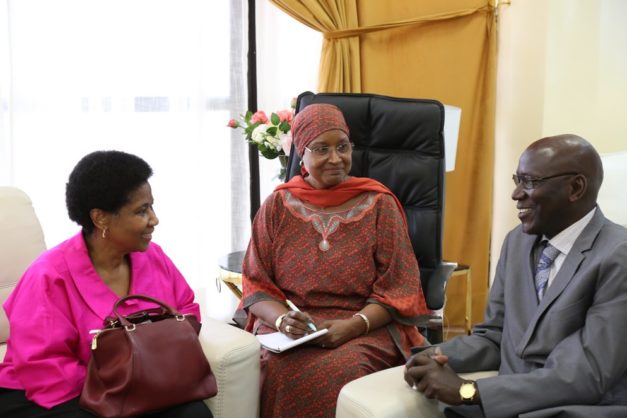 Phumzile Mlambo-Ngcuka, Executive Director of UN Women, today begins Monday, July 23, 2018, an official visit to Senegal to highlight the importance of women's economic empowerment in Senegal's agricultural sector, to encourage approximation of discriminatory legislation and to promote female leadership and political participation.
Women farmers represent up to 70% of the active population and provide more than 80% of Senegalese agricultural production, including food crops, but many disparities remain between men and women, including access to land, skills, financial resources and markets.
As part of her stay, the Executive Director will visit the Network of Women Farmers of the North (REFAN), a women's cooperative working on rice production and trade that aims to empower at least 30,000 women farmers in Senegal by 2021, supported by UN Women under the Agriculture, Women and Sustainable Development (AGRIFED) program. Mr. Papa Abdoulaye Seck, Minister of Agriculture, and Mrs. Salimata Diop Dieng, Minister of Women, Family and Gender, will join the visit of the project. Since the beginning of the project in 2017, more than 10,000 women in the cooperative have benefited from the creation of local sales outlets for rice distribution in Dakar and in different regions of Senegal, which has allowed them to increase their sales rice.
The Executive Director is also expected to meet with Senegalese President Macky Sall, Minister of Justice Ismaila Madior Fall and Second Deputy Speaker of the National Assembly Awa Gueye to advocate for increased political participation of women in leadership. In 2010, the country passed a law that requires political parties to ensure that at least half of their candidates in local and national elections are women. While the law has increased the number of women elected at the national level in the July 2012 legislative elections, there are still gender disparities in other decision-making bodies that need to be addressed.
The need to move forward with the implementation of another law that allocates 15% of public procurement to young women entrepreneurs will also be discussed during the visit. The mission will be an opportunity to interact with young women entrepreneurs and to interact with civil society organizations. Mlambo-Ngcuka will be accompanied by Jaha Dukureh, United Nations Regional Ambassador for Africa and activist, who is focusing her efforts on ending child marriage and female genital mutilation.
Kapital Afrik intends to deliver strategic financial information to executives and managers, through a daily newsletter and a website that covers all African finance.