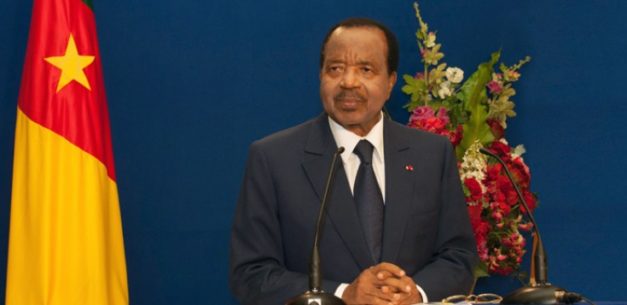 It was on Twitter that Cameroonian President Paul Biya put an end to the suspense surrounding his candidacy for the presidential election on 7 October 2018 … for a seventh term.
"Conscious of the challenges that we must together face for an even more united, stable and prosperous Cameroon, I agree to respond favorably to your urgent appeals. I will be your candidate in the next presidential election ": it is in these words that Paul Biya, 85 years old, in office since 1982, announced Thursday very late in the evening, his candidacy for a 7th term seven years old.
President Biya who is in the pool of presidents who are bogged down in power (he is the oldest head of state in Africa since the fall of Robert Mugabe), can then theoretically remain in office until 2025. After have long been suspenseful, the "king" has announced this umpteenth candidacy to a few hours of the hearing he will grant to the president of the Commission of the African Union, Moussa Faki-Mahamat.
An application that comes in a context where the country, one of the major economies of Central Africa, faces economic crisis caused by the decline in oil prices and a security crisis. It is particularly this last situation that has become worrying, given the scale of the claims, and especially the military rise of the separatists.
Biya will face several candidates – who were preparing for it elsewhere. Among them, Joshua Osih, candidate of the Social Democratic Front (SDF), Maurice Kamto of the Movement for the Renaissance of Cameroon (MRC) and the lawyer Akere Muna, former Vice President of Transparency International.
Journaliste reporter à Financial Afrik, diplômée en Journalisme et communication à l'Institut Supérieur Entreprenariat ship et de Gestion (ISEG) de Dakar.
Bloggeuse, panafricaniste, elle est membre de l'Union Internationale de la Presse Francophone (UPF).
Maguette est une journaliste passionnée d'économie et d'actions humanitaires et intéressée par les questions liées au Genre surtout celles des femmes rurales.