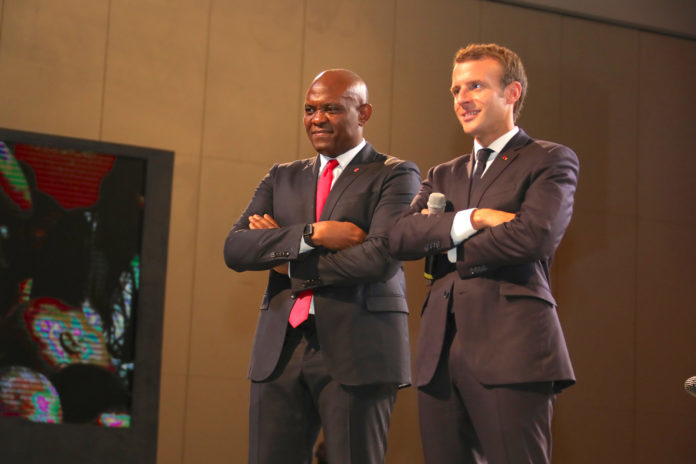 The French President, Emmanuel Macron, presented a bold new vision of the relationship between France and Africa, during his speech during an exclusive session organized by the Tony Elumelu Foundation in Lagos on Wednesday, July 4, 2018.
He passionately advocated for a new partnership, giving priority to the role of entrepreneurship in Africa's renaissance, highlighting the importance of the private sector and especially pointing out that the future of Africa is in the hands of Africans.
I room with his style of direct communication with the audience.
« To young African entrepreneurs: never listen to people who tell you to wait, » said Mr. Macron. « If you believe in your projects: realize them. Our role is to help the new generation seize opportunities and meet challenges. This is what underlies a new, balanced relationship.  »
Tony O. Elumelu, CON, Founder and President of Heirs Holdings and United Bank for Africa (UBA), hosted the event he opened on a note of recognition of the importance of the opportunity for entrepreneurship Africa: « The French President recognizes the critical importance of African entrepreneurs for sustainable economic development on the continent – he knows that the story of Africa is changing and will continue to change. His message is refreshing and well received. We want France and the rest of the world to realize that Africa is a continent of opportunity, « he said.
The two leaders stood side by side, surrounded by emerging, established women and business people from across Africa, in an exciting and sometimes tense session. In conclusion of the event, the Tony Elumelu Foundation (TEF) signed an agreement with the French Development Agency (AFD), the French development bank. This agreement establishes a research partnership to examine the entrepreneurship ecosystem in West Africa, with a particular focus on Francophone countries, a risk-sharing guarantee framework and access to high-level mentors. level for EFT entrepreneurs.
About the Tony Elumelu Foundation
Founded in 2010, the Tony Elumelu Foundation (TEF) is the leading African philanthropic organization that carries the torch of entrepreneurs and entrepreneurship across the continent. The Foundation's long-term investment in empowering African entrepreneurs is emblematic of Tony Elumelu's ethapitalism philosophy, which positions the African private sector, and especially entrepreneurs, as the catalyst for the continent's social and economic development. . The Foundation's flagship initiative, TEF's Entrepreneurship Program, is a $ 100 million, 10-year commitment to identify, train, mentor, and fund 10,000 entrepreneurs who can transform the landscape of entrepreneurship. business in Afriquec