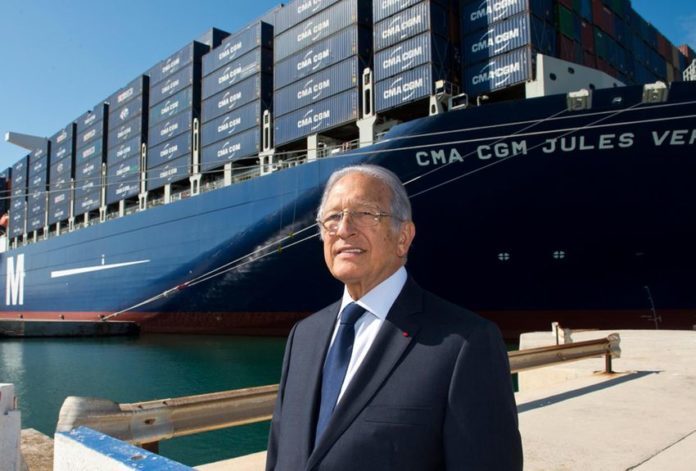 A great tribute was paid Friday, June 29 to Jacques R. Saadé in Marseille. The founder of the CMA-CGM group, who died Sunday, June 24, 2018 at the age of 81, had the honors of France represented by the Minister of Foreign Affairs Jean-Yves Le Drian.
Leading personalities from the shipping world and many politicians have joined the Group's 30,000 employees in 160 countries for a moment of silence.
The fog horns of all the boats present in the ports of France and all the CMA CGM ships in the world sounded a last salute to those who built their group against all odds. The CMA CGM is the third largest ocean freight group in the world with $ 701 million in revenue last year for $ 21.1 billion in revenue.
Starting from his native Lebanon forty years ago, Jacques Saadé built a strong empire of 494 ships. The CGM, which he bought in 1997, grew gradually with the acquisition of Delmas in 2005 and, beyond the seas, the Asian Nol in 2007.
As a good captain, he knew how to avoid the shallows. In the face of the uncertain aftermath of the 2008 financial crisis, he managed to convince the Strategic Investment Fund (ISF) and a Turkish shipowner, Yildirim, to acquire 20% of the capital, while remaining captain of his group which he continues to keep control.
Kapital Afrik intends to deliver strategic financial information to executives and managers, through a daily newsletter and a website that covers all African finance.