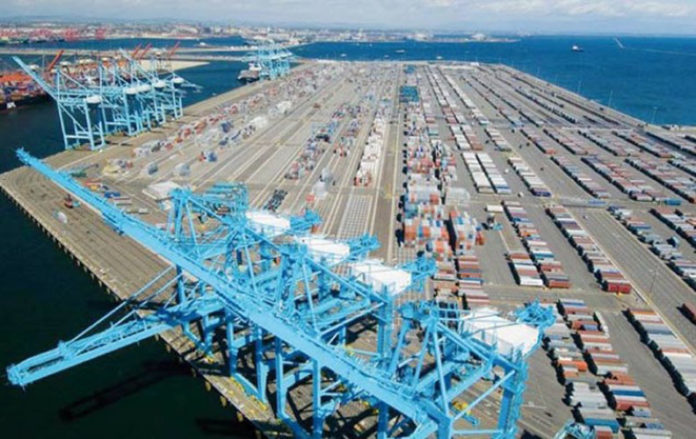 By Daniel Pingeot
Africa's largest port, Tanger Med in Morocco has become one of the most important logistic platforms in the world in a decade. A positioning that is as much of its geographical location as its innovations in terms of dematerialization.
With its freight exchange, the famous port Tanger Med is once again talking about him after an eloquent growth in 2017. Launched last March, in partnership with the CGEM (the General Confederation of Enterprises of Morocco), it is intended primarily for professionals transport and logistics. Its goal is to connect actors using Tanger Med, namely shippers and carriers, to strengthen the logistical competitiveness of Moroccan exporters and enhance the attractiveness of its ports. "Tangier Med is a platform of choice for Moroccan exporters. It makes it possible to handle ro-ro traffic for exports of Moroccan products in the textile, leather, automotive, aerospace, electronics, horticulture and fresh products sectors "1, says Rachid Houari, Port Tanger Med director 1. The Tanger Med free zone, the largest in the entire African continent, is home to up to 800 active companies (including Renault and Peugeot).
Although the port has been growing steadily since its creation in 2007, it has nevertheless had to start modernizing its services in order to maintain the competitive advantage acquired. As Morocco faces a significant and worrying increase in the informal sector, the country's customs service is also called upon to be more vigilant.
Stemming the informal digital, a necessity for the CGEM
Morocco has been facing a disastrous informal sector increase for the past few years, accounting for only 20% of the country's GDP. The most affected sectors are, unsurprisingly, trade, construction and public works, as well as the food and textile industries. "The informal economy creates a shortfall for the state, impacts Moroccan businesses, end consumers and quality of employment," according to the Moroccan employers, the CGEM.
To attract and retain users, Tanger Med has decided to dematerialize part of its administrative procedures with a paperless goal by the end of 2018 (online customs declaration with electronic validation of the bank guarantee, electronic payment, etc.).
This approach is part of a process of dematerialization initiated by state actors anxious to contain the informal sector so harmful.
Thus, the ADII (Customs and Excise Tax Administration) is also increasingly active and rigorous in countering any form of commercial fraud. The latter is also engaged in a modern reform since 2017, supposed to last until 2021. An action that follows the deployment of several technological innovations, the BADR ("Automated Customs Network Network") to the marking system fiscal SAMID (for "Automated Integrated Customs Marking System"), developed in collaboration with the Swiss company SICPA, which is used in real time and remotely and is more relevant than ever in a context of recrudescence of fake and fraud. It provides the tax base for the Domestic Consumption Tax on beverages and tobacco products manufactured, imported or obtained locally.
Behind these cascading innovations, there is a man, Nabil Lakhdar, who is familiar with the customs administration for having worked for 17 years between 1998 and 2015. Currently Director General of the ADII since November 2017, he is also at the helm. origin of Badr online system. No doubt it will be able to bring new innovations within a strategy that aims to zero tolerance in the future and strengthen the strategic competitiveness of Moroccan ports.
Kapital Afrik intends to deliver strategic financial information to executives and managers, through a daily newsletter and a website that covers all African finance.