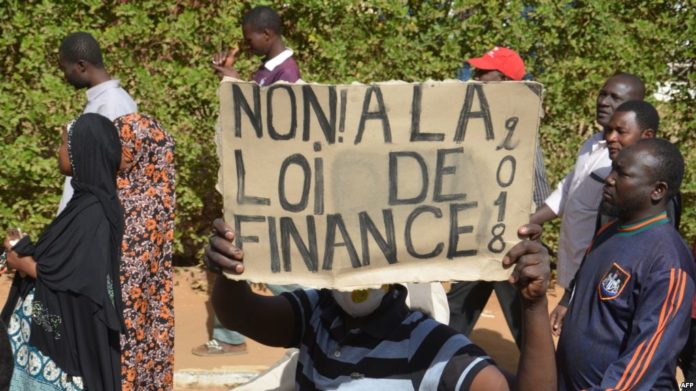 In Niamey, 23 protesters against the law of finance are in custody following a demonstration held Sunday, March 25, 218. This was the sixth consecutive day of citizen actions against the 2018 Finance Act, already in force. The protesters defied the ban on assembly enacted by Moctar Mamoudou, the president of the special delegation of the city of Niamey, citing security reasons.
Demonstrations against the Finance Act began last October denouncing among other tax incentives « of twenty billion CFA francs » to the telephone companies and, on the other hand an increase in the tax burden on vulnerable and vulnerable sectors. the rural world.
This is defended by the Minister of Finance, Hassoumi Massaoudou, who said in late February, the mill contains « virtually no action » affecting the working classes, including the countryside where live 80% of 20 million Nigeriens.
« All these measures concern the cities. This concerns a sector that was practically not taxed, which accounts for 59% of GDP, and which concerns markets, all those markets that you see, Katako, and so on. All this activity was not taxed at all. Is this normal? « The minister said that Nigerians must learn to take charge: » We can not continue to rely only on budget support, on budget support. It is not possible.  »
Not wanting to concede any compromise, the treasurer added that
those who are in the street today consider that paying taxes is illegitimate. For the minister, « we must stop begging ».
Beyond its political base, the events in Niamey raise the question of the legitimacy or otherwise of tax collection in a context where the informal sector is close to 60% of GDP.
In his fight against civil society, the minister can count on the support of the representative of the European Union, Raul Mateus Paula, who encourages the Nigerian government « in the path of reforms » and the powerful Minister of the Interior, Mohamed Bazoum, who explains the source of the reforms by the application of the directives of the UEMOA dating from 1999.
As for President Mahamadou Issoufou, he extends his observation round, avoiding playing the leading role in an equally political and economic debate. But for how much longer?