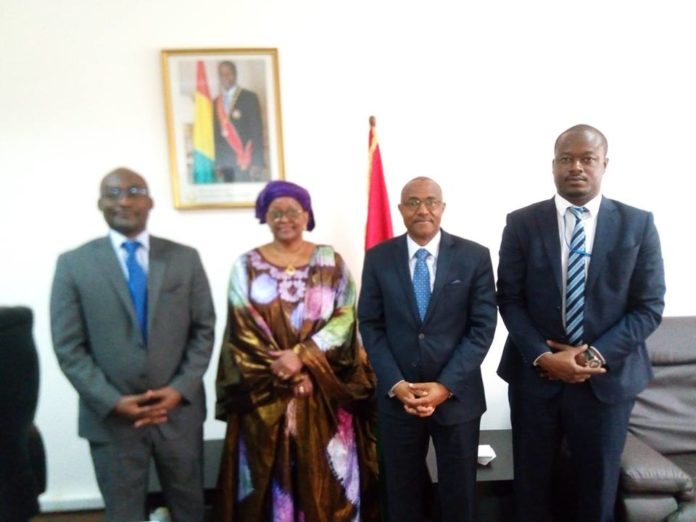 Accompanied by Messrs. Robert Kwame of Graft AGYARKO, Responsible for outbreak and Epidemic, ARC and Mamadi Sidibé, West and Central Africa Country Manager, Chief Executive Officer of African Risk Capacity (ARC), Panafrican Mutual for Climate Risk Management Mohamed Béavogui met this Monday, March 19, 2018 in Conakry with the Guinean Minister of Planning and International Cooperation, Mama Kany Diallo. The purpose of this interview was to inform about the progress made by the CRA and its perspectives.
The ARC boss presented his Institution (African Risk Capacity (ARC) as an innovative extreme weather insurance scheme, designed to help African Union member states deal with the ravages of drought and to give back.
"ARC is an African solution to one of the continent's most pressing challenges, transferring the climate risk burden of governments, farmers and ranchers they protect to the CRA. This African financial entity can trigger the rapid sending of funds to African countries affected by drought episodes, "said Mohamed Béavogui.
On the process of integration and the promotion of the ratification of the treaty by the signatory states, the director of the ARC announced that his institution will proceed by phase to know "the formalization of the structuring of the Institution, the search for the definitive seat and launch a new leadership, "he told the Guinean authorities.
The Minister of Cooperation, Mama Kany Diallo for its part reminded her host, the various steps taken by Guinea for the establishment of this Institution namely the adoption of the convention by the National Assembly, the signature of a memorandum of understanding before indicating that Guinea is moving from countries that are very advanced in the process of integration of the ARC, while also reiterating its commitment to accompany the Institution in the process.
To date, out of the 32 signatory countries of the treaty, only 5 countries have already ratified it.
Je suis Mamadou Aliou Diallo, journaliste- Blogueur, Web activiste et acteur de la société civile (ONG). Diplômé de l'ISMGB (Institut supérieur des Mines et Géologie de Boké) avec une licence en Génie Traitement- Métallurgie; Formation en Communication et journalisme à JMJ-Communication, Administrateur du site Guinée économie et signe pour le site d'informations en ligne Guineeconakry.info (GCI), un site distingué à plusieurs reprises, meilleur site internet Guinéen, cité et référencé par plusieurs médias internationaux.