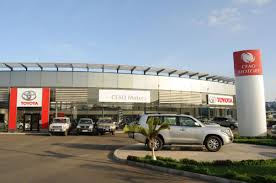 The week of January 12 was marked by a significant rebound in transactions on the Regional Stock Exchange (BRVM).
Thus, the total value of transactions recorded over the week is 16,81 billion FCFA for 1 897 356 shares exchanged against 1,50 billion FCFA for 638 393 securities processed last week.
Negotiations focused on 51 Securities, including 42 on the stock market and 9 on the debt market.
The market capitalization of the stock market was 6 513,33 billion FCFA against 6 574,99 billion FCFA last week. That of the bond market amounts to 2 964,97 billion FCFA against 2 965,71 billion FCFA previously.
In terms of the largest increase of the week CFAO CI finished the week at 620 FCFA up 39,33%. The biggest fall of the week is recorded by the title SUCRIVOIRE CI with a fall of 12,86% to 2 585 FCFA.
Leader of the Ivorian market with 40% of market share, the dealer benefits from the upturn in new car sales, up 9% in 2017 and the recent age limitation of imported vehicles in Ivory Coast.
Over the week, the BRVM 10 index has gone from 211,82 to 210,65 points, a decline of 0,55%. The BRVM Composite index, for its part, sold 0,94% to 231,58 points against 233,77 points previously.
The BRVM – Distribution index records the best weekly performance. It showed up at 325,36 up 1,12% from last week. The BRVM – Other Sectors index recorded the biggest drop of the week with a change of -5,56% to 209,76 points.
Publishing Director of Kapital Afrik. In the African economic press for 17 years, Adama Wade had to work in Morocco in several editors. Captain at the Long Course of the Merchant Navy and holder of a Masters in Organizational Communication, Adama Wade has published an essay, "The Myth of Tarzan", which describes the geopolitical complex of Africa.