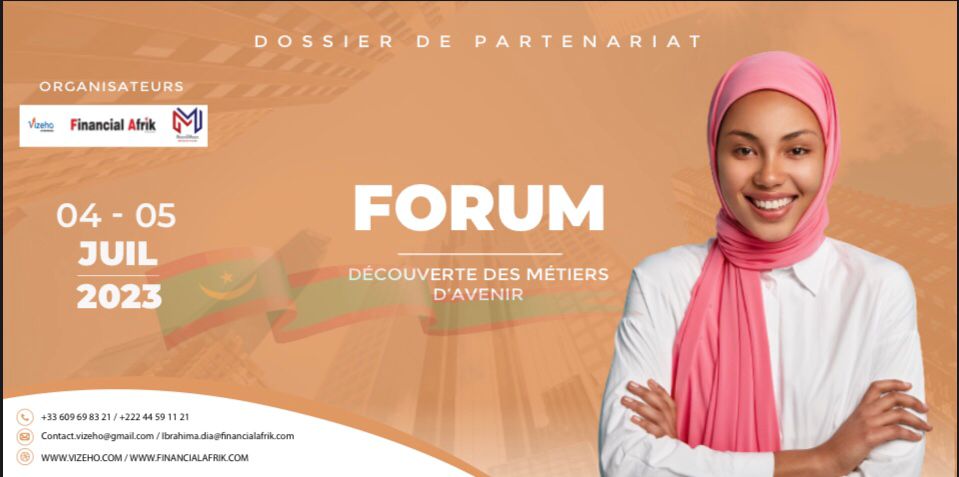 FORUM: DISCOVERING THE PROFESSIONS OF THE FUTURE
56
56 people viewed this event.
At a time when Mauritania is at the crossroads of development following the imminent exploitation of gas and mining with the promise of an economic and industrial boom, vocational training is the backbone of this ambition. This forum, which will be held from July 4 to 5 in Nouakchott under the theme: "Discovering the trades of the future" will crystallize this vision by providing a framework for exchange and reflection whose translation into reality will find its anchorage in an educated, enterprising, connected and ambitious youth. More specifically for Mauritania, it is a question of fighting against unemployment, which massively affects youth: the isolation of certain regions, the climatic challenges inherent to the country's geographical situation, precariousness, and a low level of education are all factors that lead to early school dropout and a lack of qualifications among young people. The aim is to promote vocational training as a complement or alternative to the classical educational curricula. It is about sending a strong message to the youth indicating that the university way is not the only way to success and that in the context of a Mauritanian society in mutation and in development each one has a place to take, a role to play. Vocational training and employment as spearheads of development and economic growth, as a factor of economic diversification, improvement of the standard of living of Mauritanians and means of fighting poverty.
Fishing and agriculture, the pillars of Mauritania's economy, constitute a real asset through the diversity of processing and agri-food trades that they offer and which often remain insufficiently exploited. The cruel lack of skilled labor in sectors such as construction and public works, which offers a range of job-creating trades in view of the constant increase in demand. With regard to the globalization of the economy and the internalization of companies, the hazards of global health challenges, the challenges of digitalization are no longer to be demonstrated, and the emergence of new trades related to new modes of consumption, to the evolution of the organization of companies and more globally to the evolution of interactions between different economic agents is to be taken into account in a perspective of competitiveness and innovation. In addition, sectors such as transport and personal services are promising sectors, offering a strong potential for development and growth on a regional and cross-border scale. Entrepreneurship through trade, already well established in the Mauritanian mentality and way of life, needs to be highlighted, encouraged and professionalized through specific training such as E-commerce. The levers of action in favor of employment are multiple in Mauritania, promoting vocational training and education of youth is a real priority to continue improving its development.