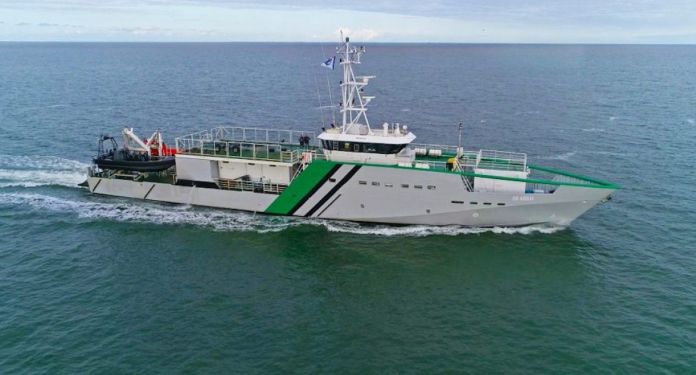 Nigerian authorities are calling on the international maritime community to urgently end the war risk insurance premium currently charged on ships bound for their coast. According to the Director General of the Nigerian Maritime Administration and Security Agency (NIMASA), Dr Bashir Jamoh, the country has put in place a security infrastructure aimed at eradicating various risks encountered in Nigerian territorial waters.
"Nigeria is not at war. Whether they decide to classify Nigeria as a war risk area due to piracy or try to collect the war insurance premium after accepting that we have invested a lot, and having appreciated the contribution we have made brought so far when it comes to the issue of maritime insecurity, it means that something must be done, "said the director general of NIMASA during a press briefing held this weekend in Abuja.
According to Bashir Jamoh, shippers to Nigeria can reduce as much as an average of 77 billion naira of their annual shipping costs through the removal of war risk insurance, making business d importation from the country much more competitive than they are now.
Note that President Muhammadu Buhari recently launched the Deep Blue Project initiative, which is a response to the challenges of insecurity facing the country, and which should put an end to the scourge of insecurity along the country's territorial waters with the vision to protect lives at sea.
"Nigeria is making progress and now that we are making progress, will we continue to be in the most dangerous waters? If such things continue, investors will feel aggrieved and it is an injustice to this great country, "he said. He also informed that in February the country recorded no attacks, while in March only one attack was recorded.
According to 2020 reports from the nonprofit Oceans Beyond Piracy, the total cost of additional war risk zone premiums incurred by ships bound for Nigeria transiting the Gulf was $ 55.5 million alone. 'in 2020, and 35% of ships passing through the area were also affected by additional kidnapping and ransom insurance totaling $ 100.7 million.
journaliste économique, titulaire d'un Master II en Communication et Journalisme de l'Institut Supérieur des Sciences de l'Information et de la Communication de Dakar (ISSIC). Grande amatrice de lecture et de musique. Féministe dans l'âme et passionnée de mode.