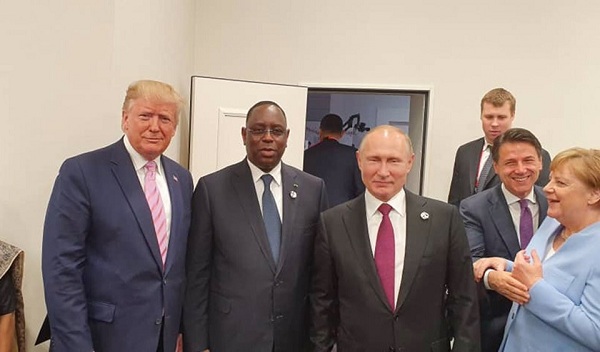 Five African countries are invited to the G7 which opens this 24th of August in Biarritz against the backdrop of the fires of the Amazon rainforest and the critics of Emmanuel Macron accusing the Brazilian Jair Bolsonaro of having « lied » about his commitments in favor of climate. Observers will watch for the unpredictable answers of US President Donald Trump, who is quick to support his Brazilian ally, of which he is the model.
The fires of the forest of the Amazon, 2. 500 fires in the last 48 hours according to the National Institute of Space Research of Brazil (INPE), intervene while on another front China has just announced, in response, its intention to raise tariffs on about $ 75 billion of US products. These new taxes (from 5% to 10%) will apply on September 1st and December 15th, in response to recent US protectionist measures.
In the face of these global challenges, Africa is represented in particular by Egypt, whose President Abdel Fattah Al-Sissi, President of the African Union, is the subject of numerous protests for supposed human rights violations. South Africa by Cyril Ramaphosa, one of the most unequal countries in the world, Paul Kagame's Rwanda, a success story at the center of great attentions of the main stream press, Senegal by Macky Sall, president of NEPAD, a new partnership for Africa's economic development transformed into a secretariat of the African Union and seeking its path. On the domestic front, Senegal seeks to combine economic growth and social added value. Another guest is Burkina Faso's Rock Marc Christian Kaboré, who holds the rotating presidency of G5 Sahel. Formerly safe safe in the region, the land of upright men, bereaved by yet another jihadist attack, has become, by dint of setbacks and lawsuits for real and imaginary plots against the former barons of the army and the gendarmerie, a new soft belly of the Sahel next to Mali amputated from its great North.
To these five guests is added the African Union, a continental organization in charge of major issues including the vital African integration through Agenda 2063.
One of the main objectives of the continent is to obtain G7 funding for G5 Sahel armies. The America of Donald Trump strongly opposes it while France, which supports the file, has to deal with a lukewarm of the European Union and conventional donors.
So much for the African presence at this summit that brings together the first 7 economic powers of the world without, it must be said, the Russia of Vladimir Putin, whose presence is not desired according to Canada who blames Moscow for invasion of Crimea and human rights violations.