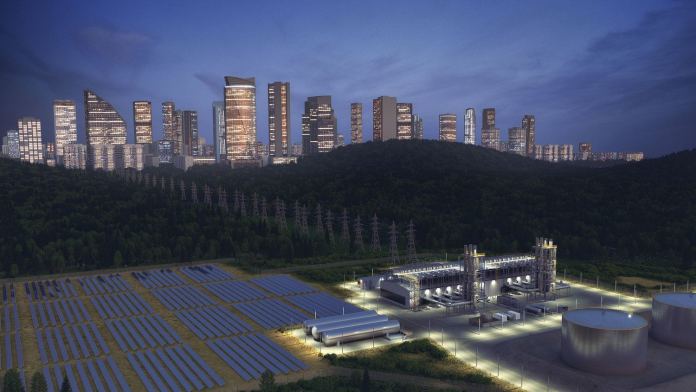 An internal study by Wärtsilä making it possible to model the optimal development scenarios for the Ivorian energy sector, sheds new light on the government strategy aimed at increasing the share of renewable to 16% of the country's electricity mix by 2030. According to Wärtsilä, this ambitious objective is not only possible, but it would even be optimal from a cost-system point of view and grid stability, on the sine qua non condition that the country acquires 1GW of flexible thermal capacity to counterbalance the intermittence of the grid. renewable.
Demand for energy in Côte d'Ivoire, which remains one of Africa's most promising countries with growth potential, is booming. To respond to this, the Ivorian government plans to almost triple its installed electrical power to reach 6,000 MW in 2030. The objective is to guarantee a sufficient energy supply, but also and above all reliable and cheap, throughout the territory. national.
In particular, the Ivorian government aims to decarbonize its energy mix by increasing the share of renewable energies, mainly solar energy, to 16% of its overall mix by 2030, or almost 1GW. A stated ambition that does not go without asking certain questions, knowing that the country has so far only relied on gas turbines and hydroelectricity for its electricity production.
According to Wärtsilä, which is based on an experience of 74 GW of installed capacity in 180 countries around the world, the energy mix as it is emerging in Côte d'Ivoire lacks flexibility, which will pose challenges. network performance problems as it integrates an increasing production of renewable energy, which needs to be supported by a controllable component.
Limits of the committed energy development model
Renewable energies provide cheap electricity which should be maximized as much as possible. However, they are inherently intermittent, and the demand for electricity also varies from time to time.
The heart of the matter is simple. The increase in the share of renewable energies in the grid requires the development of a very flexible base capacity of around 1GW, which will complement the sometimes uncertain contribution of hydropower, very dependent on the level of rainfall; the whole allowing to compensate effectively the intermittence of the future capacities of solar, wind and biomass energy, and to make the network reliable.
To make the most of the available energy resources, Wärtsilä experts believe that the ideal situation in 2030 would consist of a mix of ultra-flexible power plants based on internal combustion engines, large photovoltaic plants, as well as storage solutions. . "This is the only valid strategy in terms of grid stability and efficiency of production capacities. Load tracking, quick start reserve, and frequency regulation are necessary to maintain a stable grid. To do this, the government can count on the flexibility of gas engines, as well as on new storage capacities. Keep in mind that gas turbines (CCGT) do not have this flexibility. Only power plants based on internal combustion engines have it. Lack of flexibility has a high indirect cost, as it limits the amount of cheap renewable energy that can be economically integrated into the system. », Explains Christophe Demay, Development Manager at Wärtsilä.
In particular, Wärtsilä's study reveals that there is no room left for adding new basic thermal generation capacity to the current power system. Indeed, any new CCGT plant that would be built in the future in Côte d'Ivoire would only have a high capacity factor during the first few years. After this deadline, the capacity factor will stabilize at around 60%, and base plants, efficient only under a high load factor, would no longer provide any financial benefit in an electricity system struggling to cope with a high load factor. high share of renewable.
Finally, it should be noted that electrical systems are traditionally faced with several challenges that restrict distribution, including power outages, fuel shortages, maintenance, demanding operating conditions or even the reduced availability of cooling water. These challenges, combined with fluctuations in demand and planned renewables additions, reinforce the idea that flexible engine technology offers a superior solution to gas turbine technology to meet the future electricity needs of the Côte d. 'Ivory.
The alliance of renewable and flexible gas is a more sustainable strategy in the future, but it is also more profitable. A detailed cost analysis shows that renewables combined with flexible motor-driven power plants are more economical than conventional energy solutions such as gas turbines, with a much lower total electricity cost of around 15 %.
It is by developing a balanced thermal portfolio including an adequate share of flexible controllable electricity that Côte d'Ivoire will succeed in acquiring an optimal electricity infrastructure capable of operating efficiently with a high share of renewable energies.