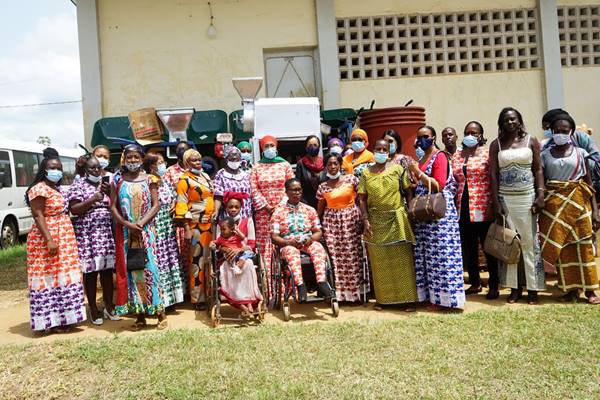 On the occasion of International Women's Rights Day, the employees of Bolloré Transport & Logistics made a donation, on March 16, 2021, to the association of disabled women of Leboutou (AFHL) in Dabou, 50 kilometers from Abidjan , several equipment intended to facilitate the production of attiéké, an income-generating activity.
This cooperative brings together nearly a hundred women aged between 21 and 60 years old and whose disabled situation hinders the speed of the process of transforming the raw material into the finished product, with a view to its commercialization on the local market.
Composed of cassava grinders, creek presses, semouleurs, special vans, knives for peeling cassava, and various utensils, this donation aims to increase the production capacity of AFHL attiéké, reduce drudgery of this activity and promote the empowerment of these women, faced with operational and funding difficulties.
Through this initiative supported by its women's association, Bolloré Transport & Logistics provides a response to the concerns of these ladies, regarding increasing their income, while guaranteeing their health and well-being.
"Our commitment alongside these disabled women producers of attiéké reflects our desire to be on the front line in promoting the empowerment of women, especially those made vulnerable by their disability. The challenge of our actions in favor of women is to create endogenous development, driven by women, "said Martine Coffi-Studer, Chairman of the Board of Directors of Bolloré Transport & Logistics Côte d'Ivoire.
About Bolloré Transport & Logistics in Ivory Coast
Present in the Ivory Coast in logistics, rail transport (Sitarail), and port handling (Abidjan Terminal), Bolloré Transport & Logistics today employs more than 8,000 Ivorian employees through its agencies in Abidjan, San Pedro, Bouaké, Noé, Ferkessédougou and Ouangolodougou. The company actively participates in the development of Côte d'Ivoire and invests in developing the skills of its employees. It trains them through the Pan-African Port Training Center (CFPP) and develops partnerships with higher education institutions, such as the Félix Houphouët-Boigny National Polytechnic Institute. Bolloré Transport & Logistics also carries out actions for the populations in partnership with associations, for example to help the schooling and social reintegration of young people and to raise awareness of environmental protection.
Kapital Afrik intends to deliver strategic financial information to executives and managers, through a daily newsletter and a website that covers all African finance.