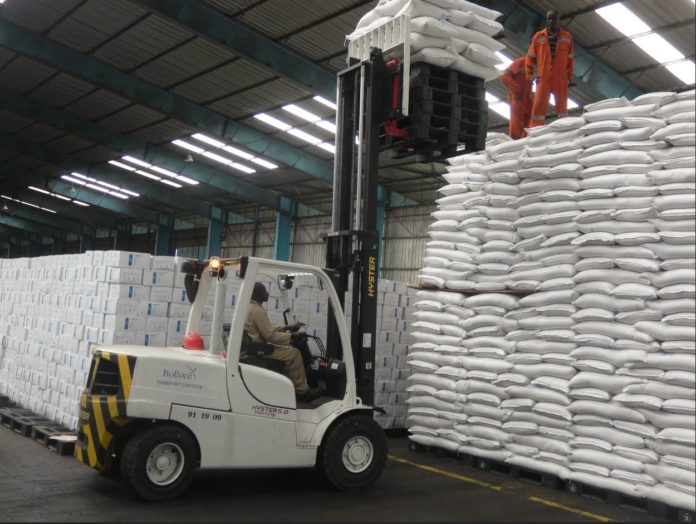 Since October 1, 2020, the World Food Program (WFP), the world's leading humanitarian organization in the fight against hunger and the 2020 Nobel Peace Prize winner, has renewed its partnership with Bolloré Transport & Logistics Cameroon. The company will be responsible for most of WFP's logistics operations for Cameroon, Chad, Central African Republic, Nigeria and Congo Brazzaville.
A traditional partner of Bolloré Transport & Logistics Cameroon, WFP has once again entrusted it with the management of customs formalities as well as the handling, storage and delivery activities of goods intended for humanitarian operations.
From the Ports of Kribi and Douala, Bolloré Transport & Logistics will ensure on behalf of WFP the import, transit or re-export operations of food and non-food products in containers, conventional or in bulk. To this end, it will mobilize more than 46 local SMEs specializing in road freight transport as well as the services of the rail operator Camrail.
"We will put our expertise at the service of WFP as well as our experience acquired in complex projects carried out on behalf of large international groups. At all stages of the logistics chain, we will mobilize the necessary resources by providing them with dedicated teams and infrastructure adapted to meet their needs. », Declared Nadia Omikounlé Youmbi – Project Manager in the Sales Department at Bolloré Transport & Logistics Cameroon.
With an annual forecast volume of 105,000 tonnes of foodstuffs intended to provide WFP support to vulnerable populations, the subsidiaries of Bolloré Transport & Logistics in Cameroon, Chad, CAR, Nigeria and Congo Brazzaville will also deploy innovative environmental and digital solutions to ensure this traffic.
"We are happy to be able to provide support to WFP in the framework of their noble and exhilarating mission in the service of populations in difficulty. Our teams remain fully mobilized to meet the challenge of a fluid, effective and efficient logistics chain to drain cargoes within the allotted time in target areas. I thank WFP for this renewed confidence and congratulate my employees on their commitment and their operational performance "said Mohamed Diop, Regional Director Bolloré Transport & Logistics Gulf of Guinea.
About Bolloré Transport & Logistics Cameroon
Present in Cameroon in logistics, rail transport (Camrail), and port handling (Kribi Conteneurs Terminal, SEPBC), Bolloré Transport & Logistics now employs more than 5,000 people. The company actively participates in the development of Cameroon and invests in improving the skills of its employees. Bolloré Transport & Logistics also carries out actions for the populations in partnership with associations to help with schooling, the social reintegration of young people and for their awareness of the preservation of the environment.
Kapital Afrik intends to deliver strategic financial information to executives and managers, through a daily newsletter and a website that covers all African finance.