From our Special Envoy to Djibouti, Abdoulaye Ba
In Djibouti, the day after the inauguration of the Red Sea Power (RSP) wind farm on September 10, 2022, by President Ismaïl Omar Guelleh, we spoke with the architect of the project's financing. Samaila Zubairu, president and CEO of Africa Finance Corporation, extensively explained the stakes of this project, which began in 2018 with the creation of the wind farm consortium followed by a bridge loan through own capital via Africa Finance Corporation (AFC) as the main developer, the Dutch entrepreneurial development bank FMO, mixed financing funds Climate Fund Managers (CFM), and Great Horn Investment Holding (GHIH), an investment company owned by a unit of the Ports and Free Zones Authority of Djibouti and the Sovereign Fund of Djibouti. A commitment that allowed the project to close its financing in record time (22 months).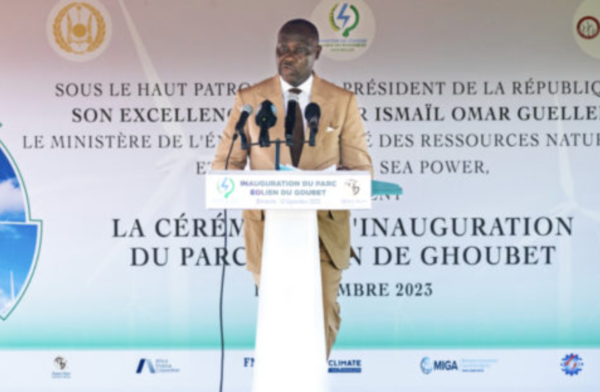 Work officially began in January 2020 and continued at a steady pace despite global supply challenges caused by Covid lockdowns. The project, the first major international investment in the energy sector in Djibouti with an amount of 122 million USD, creates the country's first independent power producer (IPP) and will serve as a model for future private investments.
For Samaila Zubairu, "one of the advantages of renewable energies lies in their low costs compared to fossil fuels. Renewable energy implies fewer CO2 emissions and lower financial costs. To my memory, the country bears a cost of 48 million dollars to import electricity from Ethiopia. This project replaces 40% of the imported fuel."
Another advantage is that the use of renewable energy will allow "the production of green fuel and provide green energy to companies that supply ships sailing through Djiboutian waters, a fueling station created by Djibouti as early as 1865," said the AFC boss.
In carrying out this project, the value of Africa Finance Corporation was to work with sponsors, governments to reduce the risks of the opportunity and make this wind farm bankable. Through this project, "AFC has shown that African capital can unlock capital for Africa's development. We therefore call on our African partners to commit more African capital to develop our continent. We also call on partners from the South and North to work with us to have an impact on the continent's development," concluded Samaila Zaburu.