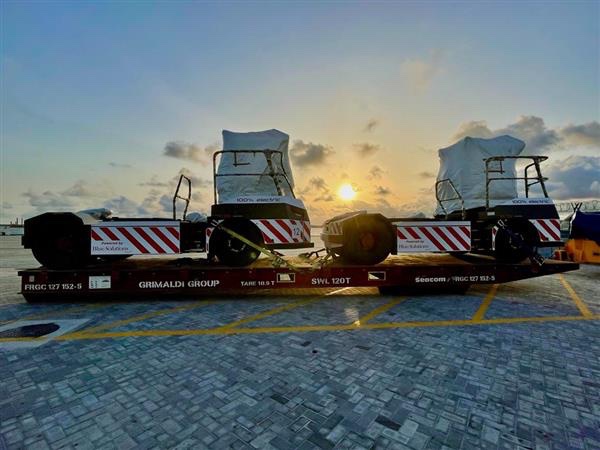 In May, Côte d'Ivoire Terminal (CIT) took delivery of 14 APM 75T HE electric tractors, ordered from the manufacturer Gaussin and for use at the second container terminal at the Port of Abidjan. This initial delivery follows a historic order for 36 100% electric tractors that was placed in April 2021 for a total of 6.5 billion CFA francs (€9.9 million). The remaining 22 tractors will be delivered in a few weeks' time, ready to be put into service in November.
The APM75T HE tractor is the result of creating a synergy between Gaussin's expertise in the production of handling vehicles, Blue Solutions, a subsidiary of the Bolloré Group, in the production of electric batteries, and Bolloré Ports in port logistics. This 100% electric model will enable significant energy savings and will contribute to carbon-free port logistics, as well as reducing maintenance costs while increasing productivity, safety and driving comfort.
The acquisition of these new tractors is in line with the Green Terminal labelling process launched by Bolloré Ports in June 2021 with the aim of gradually decarbonising the transport of containers and wheeled vehicles in its port terminals. This approach covers all environmental concerns and is based on a comprehensive methodology built on eight fundamental pillars. The entire process – from defining the project to auditing – has been validated by Bureau Veritas, one of the world's leading companies in testing, inspection and certification.
"The implementation of the Green Terminal labelling process continues in our network with the introduction of a full fleet of electric tractors developed in synergy with Blue Solutions and Gaussin. This equipment will provide us with a modern, efficient infrastructure in line with our environmental commitments," said Olivier de Noray, Ports and Terminals Managing Director of Bolloré Ports.
"Combined with our actions to preserve biodiversity, this electric equipment will enable us to ensure the optimal operation of the new container terminal, and to manage our carbon footprint to the best of our ability. Protecting the environment is a priority for everyone involved in this project, and we are proud to be able to participate in it alongside the Port of Abidjan," said Koen de Backker, Managing Director of Côte d'Ivoire Terminal.
Kapital Afrik intends to deliver strategic financial information to executives and managers, through a daily newsletter and a website that covers all African finance.