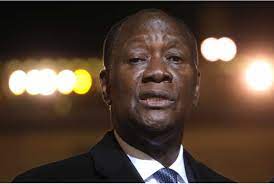 Ivorian President Alassane Ouattara spoke out on the financial, economic and diplomatic sanctions decided by the Community of West African States (ECOWAS) against Mali, on the sidelines of a visit, Monday January 17, 2022 to Libreville, with his Gabonese counterpart Ali Bongo Ondimba.
"We are very unfortunate to have imposed all these sanctions," he said, recalling the context of these measures. "It is unacceptable for a military regime to remain in place for a five-year period (…). We have done everything to ensure that the military authorities of Mali organize elections in a timely manner, it is with our reluctance that we have put these sanctions in place", continued the Ivorian president during a press conference in Libreville. .
As a reminder, the heads of state of ECOWAS, meeting on January 9 in Accra, had decided to close the land and air borders of their respective countries with Bamako where a junta took power after a double coup. State at 9-month intervals (August 2020 – March 2021) and proposed a five-year transition roadmap. West African leaders also announced, among other things, their decision to suspend all trade transactions with Mali except for essential consumer goods and medicines. Also among the sanctions, the recall of ambassadors stationed in Mali.
Consequences in Ivory Coast and Senegal
And the economic consequences of this situation already weigh on Mali, but also on the other States of the region, recognizes Alassane Ouattara. "The situation of the populations is difficult both in Mali and in the large neighboring countries, such as Senegal or Côte d'Ivoire. (…) Our wish is that the situation normalizes as soon as possible", he hinted.
While the Ivorian president was making these remarks in Gabon, his counterpart Jean Claude Kassi Brou, president of the ECOWAS Commission, in a post on social networks, recalled that the sub-regional organization is "available to support Mali for the return to constitutional order through credible elections within a reasonable and realistic timeframe". An outstretched hand which for the moment has not yet had a respondent on the side of the garrison of Kati, seat of the junta in power in Mali.