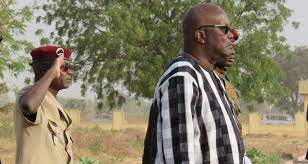 In Burkina Faso, the military prosecutor announced on January 11, 2022, the arrest of several soldiers on suspicion of preparations for a coup. Information on which the Minister of the Armed Forces gave more details on Thursday 13th.
"Two officers, 7 non-commissioned officers, one non-commissioned member and five civilians. And after the first hearings, three people were released, two civilians and one soldier. As a result, today, there are still twelve who are still in preventive detention for the purposes of the investigation, "said Minister Aimé Barthelemy Simporé without giving an identity. "We must remain calm, the army continues its missions and remains in its posture of execution of the missions entrusted to it", added the Minister of the Armed Forces of Burkina Faso.
The main suspect in this alleged coup attempt against the regime of Roch Marc Christian Kaboré (photo), in power since December 2015, would be Lieutenant-Colonel Emmanuel Zoungrana, ex-corps commander of the 12th commando infantry regiment and commander of the western sector of the grouping of forces for the security of the North. The former commander of the western sector of the North Security Force Group and the 25th Commando Parachute Regiment was relieved of his new duties last December following an attack that claimed the lives of 53 gendarmes.