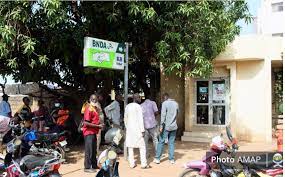 The National Union of Banks, Insurance, Microfinance, Financial Institutions and Commerce of Mali (Synabef) implemented its 72-hour strike notice from Tuesday, November 23 throughout the country. A widely respected slogan.
This time, the strike concerns the banks, the pump attendants of the service stations of the multinationals Total, Shell and Oryx, and the service providers of the Pari Mutuel Urbain (PMU-Mali). The movement seems to be largely followed by banks, financial institutions and gas stations, with the exception of the Development Bank of Mali (BDM-SA).
Report
A tour through the city of Bamako highlights the atmosphere that reigns in front of the branches of banks and financial establishments. Not even minimum service. Only the guards were on duty. ATMs, which remained operational, drew crowds.
This was the case, for example, at the headquarters of the National Agricultural Development Bank (BNDA) at ACI 2000. In single file, customers were waiting to do their transactions through the automatic teller machine. For their part, the Synabef teams had been on site since 7 a.m. to ensure strict compliance with the strike order.
Points of claim
Joined by Financial Afrik, Hamadoun Bah, the general secretary of the union, specifies that the organization continues to demand, among other things, the return to the BDM of Ms. Kane Djénébou Sall "arbitrarily dismissed", and the re-reading of the convention on salary grid for a 30% increase which, according to the texts, must be done every 3 years. The union of banks and financial institutions is also calling for the 45 Ecobank Mali workers dismissed for economic reasons to be made legal.
In addition, Synabef protests against the precarious situation of gas station pump attendants. "For a lot of them, either there's no contract or it's bad. Some have been employed for 10 years and paid 25,000 or even 30,000 Fcfa / month, "Hamadoun Bah indignantly.
"We work from 6 am to midnight without a work premium, no leave or leave, not to mention unfair dismissals without notice. The agreement signed in 2005 between the Malian state and stakeholders in the oil sector has still not been applied so that we can exercise our rights ", deplores Souleymane Samaké, the general secretary of the union of pump attendants of Mali.