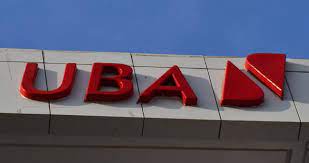 United Bank for Africa (UBA) on Monday, October 25, released its audited quarterly financial results for the quarter ended September 30, 2021. The Lagos, Nigeria-based bank posted a jump in profits during the reporting period.
Indeed, after-tax profit rose 36% to 104.6 billion naira (255 million USD), against 77.1 billion naira (188 million USD) recorded a year earlier. For its part, operating profit increased 13% year-on-year to close at 331.7 billion naira (809 million USD), from 293.7 billion naira (716 million USD) in September 2020.
Regarding profit before tax, it increased by 37%, or 123.4 billion naira (301 million USD) at the end of September 2021 against 90.4 billion naira (220 million USD) recorded at the end of September 2020. Gross profit reached 490.3 billion naira (1.19 billion USD), compared to 454.4 billion naira (1.10 billion USD) as of September 30, 2020.
Gross income increased 8% to 490.3 billion naira (1.19 billion USD) in the first nine months of the year.
In addition, UBA continued to maintain a strong balance sheet, with total assets of 8300 billion naira (20 billion USD), an increase of 8% from the 7.7 trillion naira (19 billion USD) recorded at the end of December 2020.
Equity stood at 798.3 billion naira (195 million USD), up 10.3% from the 724.1 billion naira (177 million USD) recorded in December 2020. Which reflects a strong capacity for internal capital generation and growth.
Commenting on the results, Group Managing Director / CEO, UBA Plc, Kennedy Uzoka, said, "Once again, the bank has shown resilience and remained strong on its fundamentals. It has also respected its commitment to shareholders, stakeholders and the public ".
In its outlook, the bank ranked among the first in Africa said it will continue to invest in digital businesses following lessons learned from the Covid-19 pandemic.
Note that the health crisis has enabled UBA to optimize its digital banking offers, which has borne fruit, as evidenced by the 50.4% growth to 41.9 billion naira (102 million USD) in revenues from electronic banking.
UBA is a leading pan-African financial institution, providing banking services to more than 21 million customers, in more than 1,000 business offices and customer contact points, in 20 African countries.