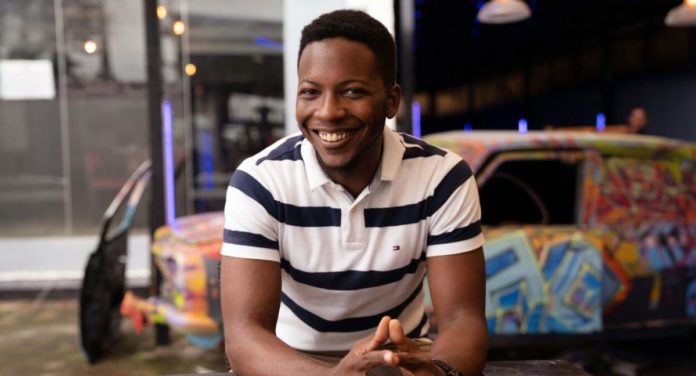 As the European Week for Sustainable Development gets underway, with its focus on  transcontinental innovations, some West African circular economy initiatives stand out.  This is the case of the Nigerian company GIVO, whose founding president, Victor Boyle Komolafe, is a member of the 2021 class of Young Leaders, the flagship program of the  French-African Foundation.  
For impact entrepreneur Victor Boyle-Komolafe, it all started with an awareness of the  extent of plastic pollution. No less than 15 billion polyethylene terephthalate (PET) items are  consumed each year in Nigeria, of which less than 10% are recycled, the rest being disposed  of in landfills or waterways. A huge waste and a major source of pollution that pushed this  accountant by training to launch in May 2019 in Lagos the start-up Garbage In, Value Out  (GIVO), a circular economy company offering recycling solutions. The principle? Educate,  collect, and process plastic waste into products for sale in a fully automated and digitized  process powered exclusively by renewable energy.  
It all starts with the collection of materials from waste generators (individuals, families, small  businesses), informed in real time of the volume of waste generated. Once collected, the  plastic materials are measured, weighed, washed, resized and catalogued using GIVO IoT  technology before being shredded. This transformation process allows for the creation of  recycled products – protective masks, abacus games, Christmas decorations, vases, etc. –  which will be sold to individuals, governments, businesses and industries.  
Anti-Covid Fight 
At 31 years old, Victor Boyle-Komolafe can boast that he has already processed more than  4,000 kg of plastic waste, made more than 10,000 protective masks and helped create jobs in  the recycling sector in Africa. A virtuous circle that includes the donation of 10% of the  production to NGOs, the most vulnerable populations and essential workers in the country. 
When the Covid-19 pandemic began and workers were facing a shortage of personal  protective equipment (PPE), GIVO launched the production of the only sustainably  manufactured mask on Nigerian soil. "Our team was able to mitigate the effects of the  shortage by recycling plastic waste to produce masks and face shields in accordance with  international standards. This has provided protection to essential workers, medical personnel  and individuals in Nigeria, helping to smooth the contamination curve," says the 30-year-old. 
Franco-African partnerships
Africa Prize in November 2019, Orange Corners in December 2019, COVID Africa Rapid  Entrepreneur Project in May 2020, eligibility in August 2020 for the 250 M naira seed fund  allocated by the Nigerian government for research and innovation… Since its creation, the  start-up has been accumulating awards. At least two of them come from France: the Digital  Innovation Challenge 2020 award from the French Development Agency (AFD), which was  instrumental in the success of GIVO, which also benefited from the second OceanHub Africa  acceleration program last May. The company is among the 6 winners out of 130 applicants,  all related to the oceans and underwater life, and aimed, among other things, to mitigate  ocean pollution. 
"France, an important trading partner for Africa, is the second largest exporter of goods to  the continent. Since 2000, French foreign direct investment in Africa has increased tenfold  and France is one of the main job creators in the continent," said Victor Boyle-Komolafe. My  team and I want to take advantage of the growing partnerships between French and African  companies to increase the local production of goods in Africa from processed recyclable  materials and the export of these products to France. This has the potential to increase  economic revenue, create employment opportunities and facilitate trade agreements  between the two countries. 
Kapital Afrik intends to deliver strategic financial information to executives and managers, through a daily newsletter and a website that covers all African finance.