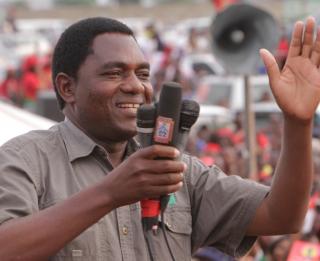 In Zambia, the President of the Electoral Commission, Esau Chulu, declared this Monday August 16, the opponent and businessman Hakainde Hichilema (59 years) 7th "elected president" of the Republic with a total of 2,801,757 votes against 1,814,201 for the outgoing head of state, Edgar Lungu (64), after a third confrontation which registered more than 70% of registered voters.
"I declare Hakainde Hichilema elected president of the Republic of Zambia on August 16, 2021," he told reporters late at night. Noting that one constituency out of the 156 in the country has not been officially counted, he reassured that the Electoral Commission "considered that, whatever its results, it was not likely to influence" the final results. .
These results have already been contested by the outgoing president, who says the elections were not free and fair. "We wrote to the Election Commission of Zambia, but they continued to announce the results (…)," said Edgar Lungu. "With polling officers being attacked and kicked out of polling stations, we were reduced to competing in seven provinces while our opponent contested in 10 provinces," he added.
Born June 4, 1962, Hakainde Hichilema is a Zambian economist and politician who, in 2006, succeeded Anderson Mazoka as President of the United Democratic Alliance (UPND), a party in opposition to President Levy Mwanawasa. Since then, the businessman has been a regular candidate for President of the Republic.