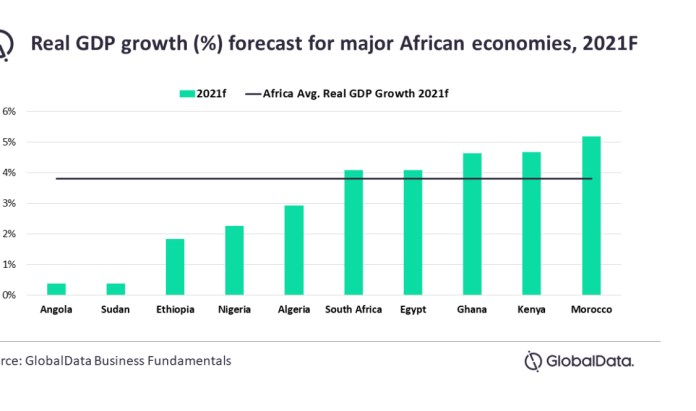 After a recession in 2020, the first for 25 years, Africa is expected to register 3.2% growth in 2021. British firm GlobalData said in a report released on August 9. According to the agency, Morocco, Kenya, Ghana, Egypt and South Africa are expected to achieve the strongest growth on the continent, driven by the recovery in global demand, the recovery in commodity prices and oil. These five countries will see their GDP grow by more than 4% in 2021.
The strongest African growth, Morocco should achieve a performance of 5.19% of its GDP growth, notes Gargi Rao, Economic Research Analyst at GlobalData, by a sustained vaccine program (more than 11 of the 35 million Moroccans have received two doses of a vaccine against Covid-19) and fiscal and monetary measures.
And Rao continued, "Significant currency depreciations have occurred in many African countries due to declining external financial flows, portfolio investment and rising public debt. This can cast a shadow over the stimulus. However, the focus by governments on countercyclical monetary policies and fiscal stimulus packages will contribute to the economic recovery of the African region in 2021. "
Note that Africa's largest economy in terms of GDP, Nigeria, is also expected to emerge from the recession, but growth will be slower than that of other sub-Saharan African countries at 2.3%. Increased insecurity, rising food inflation, rising debt service payments and stalled reforms are major obstacles to Nigeria's recovery process.
In addition to the support of the governments of its respective countries, Africa attracts global investors due to its vast resource base and untapped market options. Recently, the UK pledged to invest $ 4.5 billion in the continent by 2022, which is expected to create jobs and accelerate economic activity.
FDI inflows to the region declined by 20% in 2020 due to weak commodity prices and pessimistic investor sentiment amid the COVID-19 pandemic. However, untapped markets and structural transformation are expected to accelerate the dynamics of FDI inflows in the coming years. With an expected increase in energy demand, investments in research and exploration of mineral resources could increase in the second half of 2021. The importance of regional value chains and the full implementation of the African Free Agreement Continental Trade (AfCFTA) will create new opportunities for African economies.
For GlobalData, the need of the hour is to continue to support the health sectors to cope with the resurgence of COVID-19 cases, as well as sustained budgetary and monetary support. Governments must extend their social safety nets and make growth inclusive and more equitable. To accelerate economic recovery in the second half of 2021, African policymakers must accelerate structural transformation through digitization, industrialization and diversification.
Morocco, Kenya and Ghana to be the fastest-growing major economies in Africa in 2021, says GlobalData