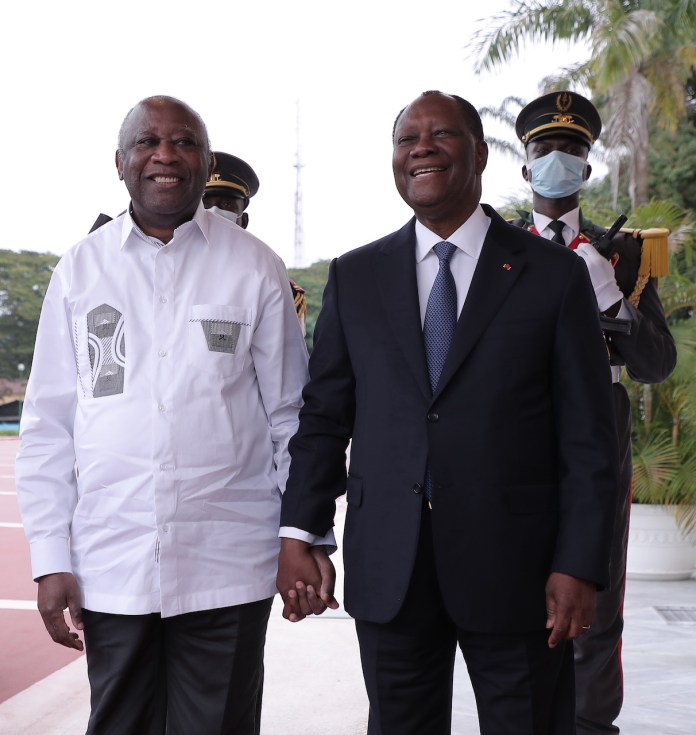 After ten years of enmity, former President Laurent Gbagbo and his successor Alassane Ouattara actually met on the afternoon of Tuesday, July 27 at the Ivorian Presidency Palace.
The Palace of the Ivorian presidency in Abidjan indeed experienced a rather special atmosphere on July 27 at the end of the afternoon. As announced on Wednesday, July 21 by the government spokesperson, President Alassane Ouattara and his predecessor Laurent Gbagbo did indeed meet. The two leaders thus broke the wall of ice which had been erected between them after the violent post-electoral crisis of 2010. A crisis which ended in the arrest of Laurent Gbagbo and his transfer to the International Criminal Court ( CPI) who finally acquitted him last March after ten years of legal proceedings.
The release of political and military prisoners from the post-electoral crisis of 2010-201 and inclusive national reconciliation "to allow Côte d'Ivoire to move forward" are, among others, the subjects debated by the two. men.
A "fraternal" meeting
" I'm happy to see you ". It was in these terms that Alassane Ouattara welcomed his precessor after warm hugs between the two men who had not seen each other for ten years. After an hour of "fraternal" exchanges during which Laurent Gbagbo wished "President Alassane to make a gesture to free the political and military prisoners from the crisis", the two men who claim "a long-standing friendship" agreed to meet again in order to work together so that Côte d'Ivoire mourns the crisis "to move forward".