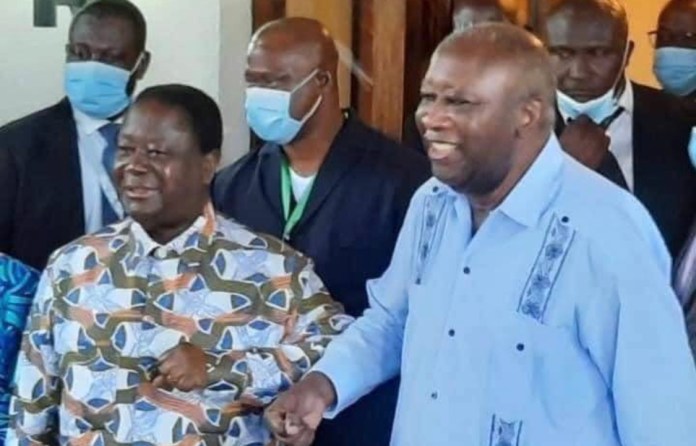 More than three weeks after his return to Côte d'Ivoire, ex-president Laurent Gbagbo began his political agenda on Saturday July 10 with a visit to Henri Konan Bédié (also ex-president) in his stronghold in Daoukro (East ).
Back in Côte d'Ivoire since June 17 after his acquittal by the International Criminal Court (ICC), Laurent Gbagbo began a 48-hour visit to Henri Konan Bédié, president of the Democratic Party of Côte d'Ivoire (PDCI) in its stronghold in the east of the country.
According to indiscretions the staffs of these two "heavyweights" of Ivorian politics will find themselves "out of sight" this Sunday, July 11 for a working session to formalize an alliance. But previously, Laurent Gbagbo expressed himself somewhat on the Ivorian political context. "The act I take in coming to see President Henri Konan Bédié at his home is an act of reconciliation and gratitude," said host Henri Konan Bédié. Indeed, in the aftermath of his provisional release by the ICC, Laurent Gbagbo had been visited by the boss of the PDCI in Brussels where he was under house arrest. This trip from Daoukro to Bédié is therefore a return to the lift which definitively closes the Pandora's box opened in 1999 after General Robert Guéi's coup d'état against Henri Konan Bédié. Laurent Gbagbo praised this coup at the time. And since then the relations between these two leaders have deteriorated sharply. So much so that throughout Laurent Gbagbo's term of office from 2001 to 2011, Bédié joined forces with Ouattara to fight him.
During this speech which finally took on the appearance of a meeting, Laurent Gbagbo explained his vision of reconciliation. "To go to reconciliation, you have to tell yourself the truths when you need to (…) and I will speak the truths that must be healed". Rightly he felt that the real problem of Africans in general is the non respect of their own texts and laws, implicitly referring to the third term of his successor Alassane Dramane Ouattara reelected since October 31, 2020 at the head of the Ivory Coast.