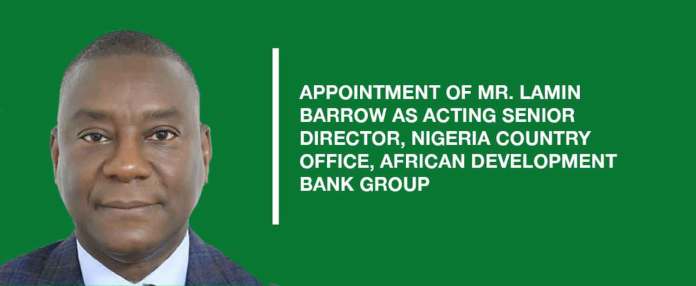 The African Development Bank Group has appointed Gambian Lamin Barrow as Managing Director of the Nigeria Country Office. The technocrat took office on July 1, according to an announcement published this Wednesday 7 on the website of the Pan-African bank.
Prior to his appointment, the Gambian was Acting Senior Director of the Nigeria office, in the AfDB's Vice-Presidency of Regional Development, Integration and Business Development. The master's degree in economics is a pure product of the ADB for having accumulated more than 20 years of experience within the institution.
Since joining the bank, he has held several senior positions including financial analyst and resident representative in Ethiopia, among others. The former executive finance student at Wharton Business School, University of Pennsylvania, USA oversaw a $ 1.2 billion portfolio.
From 2013 to 2017, he was Chief of Staff to the President of the AfDB with the rank of Director. Subsequently, he served as Director of the Support Office at the Joint Secretariat of the ADB, the African Union Commission and the United Nations Economic Commission for Africa.