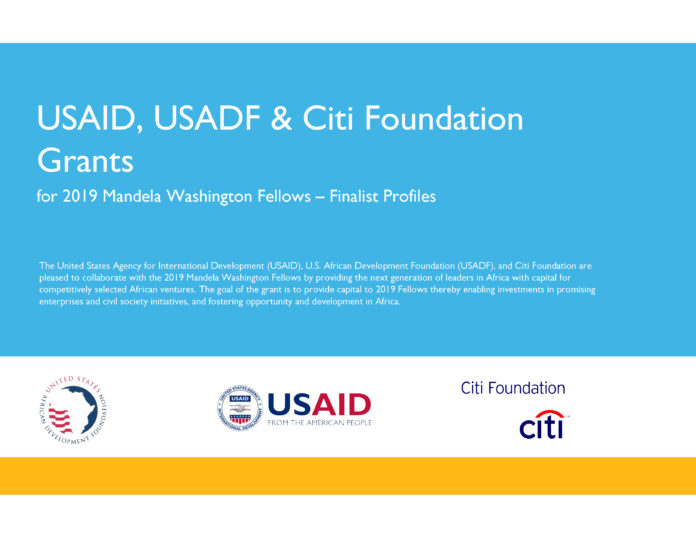 The Youlima Youth Incubator Program award ceremony marked the conclusion of the program's entrepreneurial training of 30 youths in Bukavu, Democratic Republic of Congo (DRC). The U.S. African Development Foundation (USADF), with catalytic funding from Citi Foundation, launched and created a successful youth business model based on entrepreneurial training leading to income-generating activities across various sectors of the economy.  
Action Social et D'Organisation Payssane (ASOP), USADF's technical partner in the DRC, assessed employers, youth and entrepreneurs to evaluate the skills which would best meet the needs of the community and local economy. After receiving over 300 applications, USADF and ASOP selected a cohort of 30 youths, comprised of 15 men, 15 women, and 5 people living with disabilities. Of those 30 participants, USADF implemented an intensive application selection process to select the 20 youths receiving $5,000 in seed capital funding. USADF will work directly with the 20 youths to ensure each entrepreneur has a viable and sustainable business plan, creates and sustains jobs, and improves income opportunities for their community.  
As part of this initiative Citi Foundation provided $200,000 under its Pathways to Progress global program supporting youth economic empowerment. The funding was used to establish the framework necessary to identify opportunities to create successful youth and women-led businesses through training and seed capital for entrepreneurs.    
"I am struck by the creativity and extraordinary resourcefulness of the entrepreneurs in Bukavu," said Willy Mulamba, Citi Country Officer for DRC. "The Citi Foundation is honored to partner with USADF and ASOP to promote and develop entrepreneurship in eastern DRC and help unlock the incredible economic potential of this region."
The Youth Incubator was designed to create youth-centric opportunities that empower young people to develop income-generating and community-building projects. The program breaks entrenched negative cycles of poverty and violence with the aim of lowering the number of socio-economically distressed and disenfranchised youth that are often vulnerable to the manipulation and coercion of armed groups and militias in the DRC. 
About the program, Acting USADF President and CEO Elisabeth Feleke stated "The Youlima Youth Incubator Program is a step towards addressing the challenges of quality education and youth employment and entrepreneurship in the Democratic Republic of Congo. USADF looks forward to continuing this program and reaching an even more diverse portfolio and application pool of youth social entrepreneurs ready to tackle the most pressing challenges in their communities."  
Kapital Afrik intends to deliver strategic financial information to executives and managers, through a daily newsletter and a website that covers all African finance.