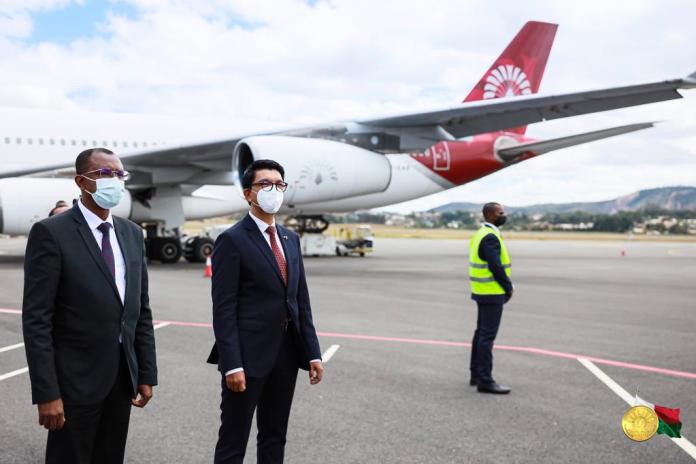 The Covid-19 pandemic is still wreaking havoc around the world. In Madagascar, the country is fighting to save lives. President Andry Rajoelina has acted for the acquisition of new healthcare capacities and the forthcoming opening of a new covid-19 treatment center.
Since the first wave of the pandemic, Madagascar has deployed a vast pandemic response operation through the creation of dedicated care centers, test centers and equipment supplies. Despite this, as in many other countries, the pandemic continues to claim victims on the Big Island. Hence the desire to bring additional material capacities to the country, intended to prevent new victims.
It is with this in mind that the Malagasy president made the trip on April 28 and May 3, 2021 to Ivato international airport to receive respectively a batch of 2,000 oxygen concentrators and 2,000 [oxygen] cylinders. This follows the receipt in 2020 of a first batch of 2,400 concentrators. "From now on, no compatriot should lose their life again because of the lack of sanitary facilities such as oxygen," he said.
During the two public meetings, the president recalled the instructions given to politicians and local administrators. The latter are ordered to transport the concentrators and bottles to hospitals and dedicated care centers. The regions of Vakinankaratra, Haute-Matsiatra and Sava, which are more affected, will be given priority for the reception of equipment.
Immediately after receiving the bottles, imported from China, on May 3, the president joined the Higher Institute of Social Work (ISTS) in Andoharanofotsy. There he visited the new Covid-19 treatment center (CTC-19). The latter is designed to provide outreach care to 160 patients. These centers are the pillars of the government's response to the pandemic, facilitating dedicated care for patients and relieving hospitals. During the visit, the President also paid tribute to health personnel and volunteers, including the Congregation of the Daughters of the Heart of Mary (Catholic Church).