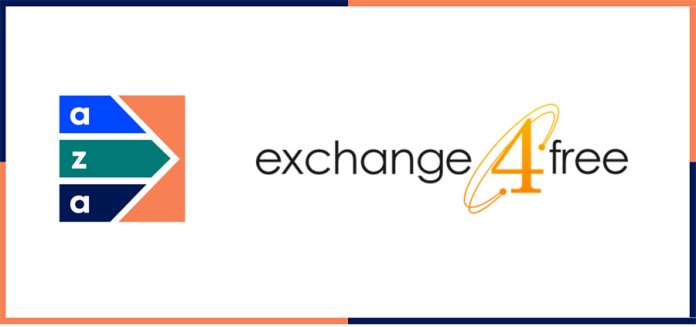 AZA Finance's merger with South African fintech Exchange4Free aims to double the volume of annual transactions to more than $ 2.5 billion, and expand the reach to 115 countries worldwide.
Nairobi, April 29, 2021 – Following a wave of consolidation generated by the transformation of the global digital payments system, AZA Finance has agreed to acquire cross-border payments specialist Exchange4Free, becoming the largest non-bank service provider FX cash flow across Africa.
The acquisition of Exchange4Free, South Africa's largest non-bank currency broker, will allow AZA Finance to double the volume of its transactions to more than $ 2.5 billion in 2021, thanks to synergies and to cross-selling opportunities, while expanding the company's geographic coverage to 115 countries in Africa, Europe, Middle East, Asia-Pacific and America.
As the response to COVID-19 leads to an increase in online business transactions and a distance from the physical infrastructure of banks, Africa – where SMEs have faced extremely long and costly processes – is rising to the challenge of established dollar-based system through the use of APIs and other network technologies. Note that beyond the industry's expansion, there is a race for consolidation, as evidenced by deals such as Santander's acquisition of a majority stake in Ebury last year; ditto in traditional merchant banking territory, by companies like Monzo, Revolut and Wise (formerly TransferWise).
"This acquisition brings us closer to our goal of opening foreign exchange flows in Africa and pre-emerging markets," said Elizabeth Rossiello, CEO and Founder of AZA Finance, adding that "Ethics and innovative solution of Exchange4Free are perfect for AZA Finance. They help develop the digital infrastructure of the future and bring innovation and efficiency, while meeting the FX cash flow needs of companies in pre-emerging markets. "
Authorized by the FCA in the United Kingdom and the Bank of Spain in Europe, AZA Finance offers a complete "end-to-end" range of treasury and foreign exchange products, for companies particularly active in pre-emerging markets. Operating from several offices in Africa – Nigeria, Ghana, Senegal, Uganda, South Africa, Kenya – as well as in Spain, the United Kingdom and in the Single Euro Payments Area (SEPA), the network of partnerships of AZA includes Money Transfer Operators (MTO) like Western Union, World Remit, Azimo, and IDT (Boss Revolution).
The acquisition it has just made allows AZA Finance to take advantage of the Exchange4Free platform and its services, including all of its APIs: providing businesses with a complete foreign exchange, treasury and regulatory compliance, and enabling them to make cross-border payments in South Africa, from over 100 countries.
"Exchange4Free has developed technology to streamline FX and cross-border payment flows across a truly global transaction network," said Mark Lawson, Co-Founder and CEO of Exchange4Free, who said, "The acquisition by AZA Finance will enable us to reach the dimension we need to optimize this technology and to provide highly customizable solutions to our customers. "
The acquisition follows a combined round of Series B debt and equity financing in which AZA Finance has raised $ 35 million for the expansion of its operations in the Middle East and North Africa over the past ten – last eight months; including a $ 15 million credit facility from the Development Bank of Southern Africa (DBSA) to expand its business in the region.