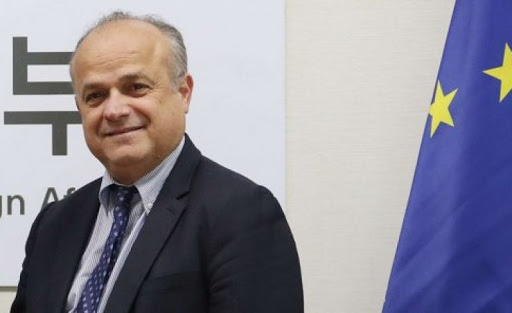 At the end of a tête-à-tête with the Ivorian Prime Minister Patrick Achi on Monday, April 12, the French Ambassador to Côte d'Ivoire, Jean-Christophe Belliard, reassured France of the need for France to support Côte d'Ivoire in its economic and social development.
"I have come to congratulate the Prime Minister on his appointment and to take a tour of the major issues. We are entering a new moment. We can clearly sense a desire to accelerate, to go faster, to go further in the economic and social field in the Ivory Coast. This is the objective of the President of the Republic as well as that of the Prime Minister. And France wants to support this movement because our interest is for Côte d'Ivoire to succeed in its economic and social development to guard against security dangers, "said Jean-Christophe Belliard.
The meeting comes after an audience that First Lady Dominique Ouattara granted to the French diplomat's wife last week at her residence. As for the meeting on Monday, cooperation agreements, in particular the Debt Reduction and Development Contract (C2D), the second phase of which is drawing to a close, was discussed. The total amount committed for the two C2d amounts to 1151.25 billion CFA francs, including 413.25 billion for the 1st C2d-2012-2015 and 738 billion for the 2nd C2d-2014-2020. With these achievements, Jean Christophe Baillard called for an acceleration of the discussions between France and the Ivory Coast for the third contract.
The other issue addressed is the private sector, the engine of growth in the country. "France has a number of tools to encourage the private sector to create jobs. It's not just the French private sector. It is also about the Ivorian private sector, small and medium-sized enterprises. Africa's problem is private sector underfunding, "the ambassador said.