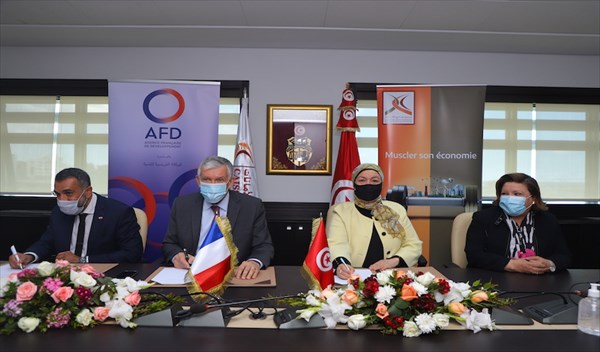 The Tunisian Caisse des Dépôts et Consignations (CDC) and the French Development Agency (AFD) on Thursday (March 25) signed a partnership agreement of 4.6 million euros in favor of female entrepreneurship in Tunisia. The funding granted in the form of a grant is part of the JET (Youth, Entrepreneurship and Digital in Tunisia) initiative launched during the visit of French President Macron to the country in January 2018.
Through the ENLIEN project, ADS has supported five entrepreneurial initiatives, in particular the Souk El Kahina project, initiated by EndaInter-Arabe, Start'Act de Carthage Business Angels and Wiki Startup, several cohorts of the Afkar incubator, and loans of honor granted by Réseau Entreprendre and Initiative Tunisie). ENLIEN supports the Agency for the Promotion of Industry and Innovation (APII) in strengthening its 28 public incubators.
"The FAST project contributes to strengthening the structuring of the entrepreneurship ecosystem in Tunisia by acting on the main obstacles encountered by project leaders and SMEs in terms of support and mobilization of funding, in particular in regions ", declared Yazid Safir, Director of AFD in Tunisia.
Dr. Boutheina Ben Yaghlane, Director General of the CDC, for her part specified that the FAST project will in particular help to promote the development of female entrepreneurship: "investing in women is one of the most effective ways of promote inclusive and sustainable economic growth. The CDC, for its part, works to encourage and support female entrepreneurship, especially in the regions ".
Created in 2011, as a public institution, the CDC's mission is the management of savings funds and the financing of Tunisian SMEs.
journaliste économique, titulaire d'un Master II en Communication et Journalisme de l'Institut Supérieur des Sciences de l'Information et de la Communication de Dakar (ISSIC). Grande amatrice de lecture et de musique. Féministe dans l'âme et passionnée de mode.