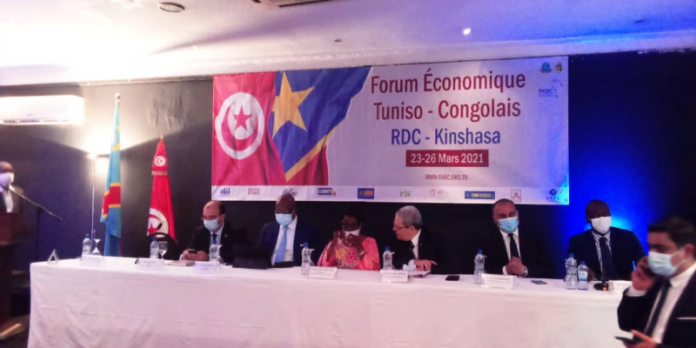 The protection of investments on both sides of the two countries is at the center of the 3rd Tunisia-DRC Economic Forum which is held in Kinshasa from March 22 to 27, 2021 and in which 55 women and men economic operators from different sectors participate.
"Tunisia's solidarity with the Democratic Republic of Congo continues today, in particular by welcoming Congolese students in Tunis to universities and public establishments for quality education. The Congolese government is delighted that solidarity between the two countries is doing well, "said Congolese Foreign Minister Marie Tumba Nzeza in her opening speech.
In turn, the Tunisian Minister of Foreign Affairs, Migration and Tunisians Abroad, Othman Jerandi praised the frequency of the holding of this Economic Forum. "The health crisis has caused a deadlock in economic exchanges and lessons have been learned in each state. Tunisia, as the world's leading medical destination, will also share this experience with the Congolese, "he noted. In the process, he announced the increase in scholarships for Congolese students in Tunisia as part of bilateral cooperation and the contribution of his expertise through the upcoming creation of a virtual University Campus with a view to investing in Congolese youth for sustainable economic development and put forward a sustainable synergy.
In his speech, the director general of the National Agency for the Promotion of Investments (Anapi), Anthony Kinzo, who indicated that the DR Congo offers several business opportunities, presented some flagship projects likely to interest Tunisian investors. in search of markets